We're back with another article in our Stay Safe on Site series, this time on the importance of good quality safety boots on any job. Whatever your industry, the safety of yourself and that of your co-workers or employees should always be a top priority. It is therefore important to make sure that you choose the right PPE (personal protective equipment) in order to lower the risk of injury as much as possible, and a pair of good quality safety boots is a great foundation for a PPE kit.
So what are the basic requirements of a safety boot? In general, the safety element of a pair of boots is made up of 4 main components:
Steel toe-cap. This protects your feet from being crushed by falling objects such as concrete, wood and tools. This is important protection, as being struck by moving/falling objects caused 937 injuries in the UK construction industry during 2011/12p. Steel toe-caps also prevent accidental damage from projectiles such as nails fired from a nail gun.
Steel midsole. This protects you in the event that you step on something sharp such as nail or broken glass. It is important to note that some boots use multi-layer textile composite midsoles, but steel is a much better option as it is stronger, its quality is more consistent, and it is much less likely to become loose through regular wear.
Grip. There are all sorts of conditions that could result in a slippery surface – a burst pipe, spilled liquids, polished floors, or just good ol' British rain! According to the HSE, 25% of major UK construction injuries in 2011/12p (558 injuries) were caused by slips, trips and falls on the level, and this risk can be reduced by a good pair of slip-proof work boots that are securely fitted.
Support. Comfort is important when working on any project; as a professional on site it is important that you are comfortable, undistracted and completely focused on the task at hand when working with dangerous tools and equipment. Some jobsites, especially in demolition work, are littered with rubble and involve walking on very uneven ground. Boots with good foot and ankle support reduce the risk of injuries that at best may result in time off work, but at worst could involve a serious or fatal injury if the fall occurs when using a power tool.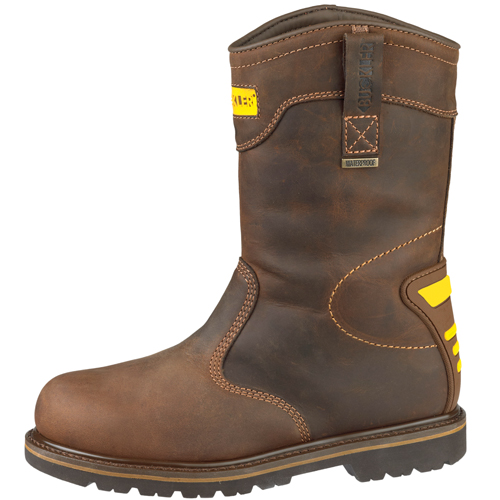 Still don't believe that safety boots are necessary? Well Buckler Boots have a story that might change your mind. Geoff Stevens from Hampshire was helping to maneuver precast concrete wall sections weighing in excess of 1.5 tonnes, when a section slipped and fell and landed on his right foot. Without his Buckler safety boots Geoff would have lost his toes, but the sturdy boots protected him despite being 2 years old!
Buckler Boots have also launched their own safety campaign that is worth noting here, called "Sling Those Hooks!" To lace many safety boots you must wind the laces through hooks at the top of the boot rather than pull them through holes. The problem is that these hooks don't only hook when you want them to! There have been incidences of hooks catching on the laces on the opposite boot, catching on wire fences, and catching on twine on the ground. This can lead to serious injury or even death if you are on a ladder or up on scaffolding. In fact, the HSE have found that falls from height made up 29% of serious injuries (647 injuries) and 51% of fatalities (25 fatalities) in the construction industry in 2011/12p, so reducing this risk even slightly with the removal of lace hooks is definitely worth it. Even on the ground, tripping over your laces could prove very painful if carrying a heavy load or working around active power tools.
Safety boots come in many styles – lace up, slip on, hiking boots, Wellington boots, and even have sneaker-style! Other important features to consider when choosing boots are water resistance, flexibility, robustness of materials used, and overall comfort. But don't forget the most important feature: the safety.
Note: All HSE statistics taken from the report "Construction: Work Related Injuries and Ill Health"
Tags: health and safety, PPE, Stay Safe on Site