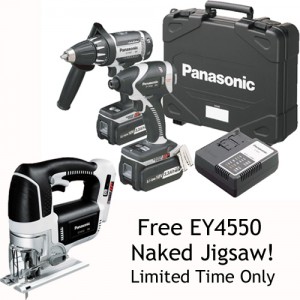 We have managed to get our hands on some top Panasonic deals this week including kits with free tools, and tools for up to 59% off list price. Panasonic cordless tools are top-quality, professional tools that are all Tough Tool IP56 rated, making them robust and durable enough to handle even the toughest site conditions.
First up is the excellent EYC157 18.0v twinpack that contains the EY7540 drill driver and EY7550 impact driver, already 53% off list price – but that's not all! While stocks last we're also throwing in a free naked EY4550 jigsaw, worth £239.00 (excl VAT). This kit is only £325.00+VAT, saving you a whopping £612.00 on the Panasonic list prices.
These are some deals we've had going for a while, but they're still worth shouting about. The  EYC159 18.0v kit contains the robust and powerful EY7550 impact driver and EY7950 combi drill, and it is still at £299.00+VAT, a saving of £430.00.  The EY7880 SDS Plus rotary hammer drill (18.0v) recently dropped in price AGAIN from £340.00+VAT to £329.00+VAT, saving you £430.00 on the Panasonic SSP.
Still not found something for you? Well the popular EY7441 14.4v drill driver is available alone for just £179.00+VAT or together with the EY7546 in the EYC199 kit for only £265.00+VAT. But that's not all, as for a limited time only you will also receive the EY3740 torch in this kit, absolutely free! That saves you £419.00 on the Panasonic SSP – not bad, eh?
So there you have it. So many tools available in so many different options, there must be something for everyone there. Remember, we got this batch of tools for a special price so once they're gone, they're gone! Don't miss out.
P.S.  If Panasonic ain't your thing, we also have some  top Bosch deals on at the moment! Check them out.