Do you know your GGS from your GSG? How about your 2-Li from your VE-2-Li? Does looking at all the codes in Bosch's huge range of power tools make your head spin? Fear not! Help is at hand.

Every Bosch power tool has a code. Sometimes they are short and sweet, like the D-TECT 150 wall and floor scanner, but when you stumble across a code like GOP 18 V-EC N CG it can be pretty hard to know exactly what it is!
That's why we're going to help you out, and make sure that you buy exactly the right package for your needs.
The First Three Letters
Every Bosch power tool begins with a three letter code. All Bosch Blue Professional tool codes begin with a G whereas the tool codes in the DIY range begin with a P, which is important to know because each range offers substantial differences in power, durability, price, and overall performance.
The only exceptions to this rule are the D-TECT scanner, which has been named that for obvious reasons, the DNM inclinometers, and the DLE basic laser rangefinder.
After that first letter come two more, and these specify the type of tool. Some of these letters are abbreviations for German words; for example, the "SB" in "GSB" stands for "schlag bohrer", which means "impact drill". This may help out German speakers a little but it's not much use for the rest of us! So here's a handy list that you can keep for reference: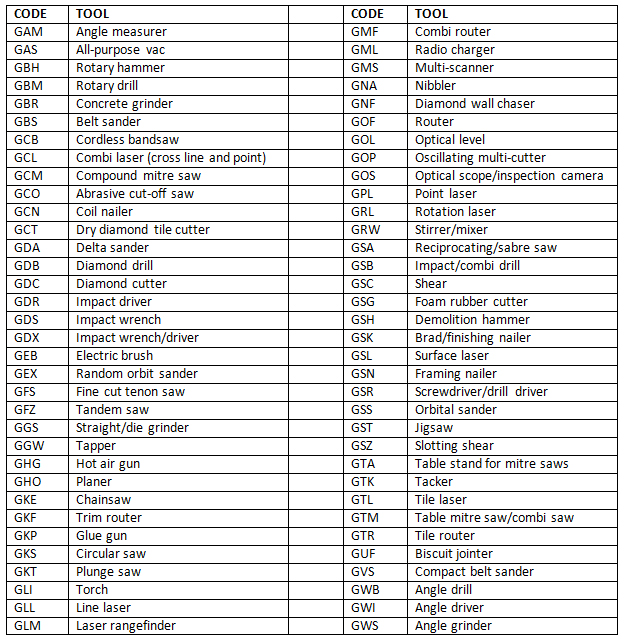 The Numbers
After the initial 3-letter code there are 2 or more numbers that have a variety of meanings. Depending on the tool, these numbers refer to important technical specifications such as motor wattage, disc or pad size, drilling capacity, or voltage. These details are obviously important for establishing whether the tool you are viewing is appropriate for whatever task you're looking to complete, so it's a good idea to get to know them well.
Although this list is not exhaustive, here are some examples of numerical codes and their meanings that will hopefully help you to understand Bosch's system: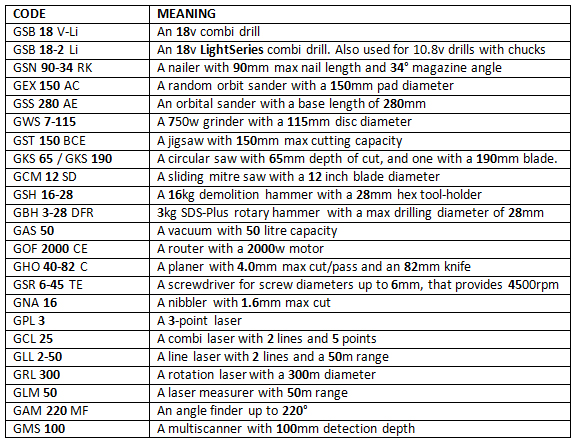 The Last Bits
The last few letters (and sometimes numbers) of Bosch codes can mean a whole range of things, so we've divided them into handy sections to help you find the one you're looking for. Don't forget, sometimes the codes can be made up of many different letters that tell you about many different features!
Cordless-Specific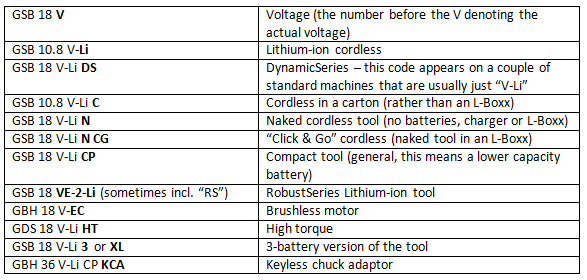 IMT-Specific

Everything Else (in Alphabetical Order)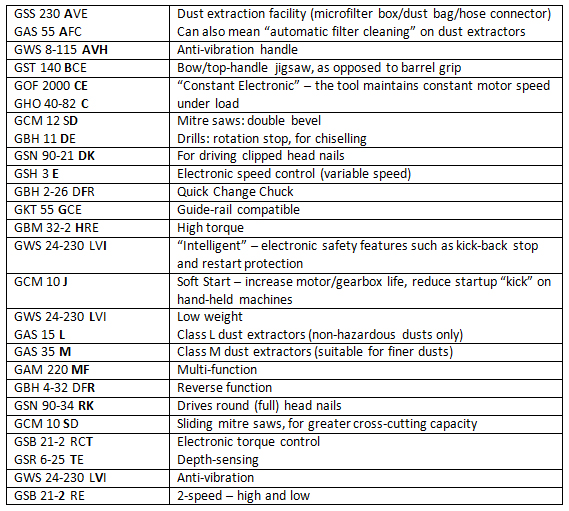 Confusing as they are, these codes can work in your favour once you get to know them; they can help you to understand the key specs of a particular tool at a single glance, allowing you to quickly decide whether you should move on or read further for more details.
If you're still not 100% sure you're getting the exact machine that you need then please don't hesitate to give us a call on 0141 883 4794. We have expert staff on hand who are very familiar with these codes and will be happy to help you choose the perfect tool for the job.