Bosch 25mm Multi-Construction Holesaw
The Bosch 2-608-580-729 holesaw has a diameter of 25mm (1 inch) and a length of 60mm. It is part of the "Speed for Multi-Construction range, which contains the fastest multi-purpose holesaws. The products in this range have the following features:
Robust carbide teeth to provide you with an exceptionally fast drilling rate and a long lifetime
Large, specially shaped chip clearance slots further increase the drilling rate
Power-Change adapter enables easy plug removal and fast holesaw changes
Please note that the cutting quality depends on using the correct speed
More Holesaws...

Get the sizes you need!
see our full range
for Multi Construction
Multi Con Holesaws
Get the Arbor you need...

SDS PowerChange Arbor
to suit ALL
Multi-Con Holesaws
Complete with
TCT Pilot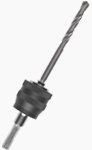 Hex PowerChange Arbor
to suit ALL
Multi-Con Holesaws
Complete with
TCT Pilot