Bosch GBH18V-26F 18V SDS Drill (Chuck, 2x 6.3Ah ENERACER)
This is the *NEW* Bosch GBH 18V-26 F 18 volt Brushless SDS-Plus Hammer Drill. It has incredible power and drilling capacity for an 18V SDS machine. You can use it to drill up to 26mm diameter holes in concrete. This SPECIAL edition is EXCLUSIVE to Kelvin Power Tools. It comes with a Quick Change chuck, L-Boxx carry case, the latest and fastest 18v charger and an upgrade to 2x 6.3Ah ENERACER batteries which are ideal for this kind of tool.
Bosch: "More power, more comfort and less dust"
Supplied With

*FREE UPGRADE*


2x 18v 6.3Ah ENERACER
(High Demand) batteries
Super fast charger
(GAL 1880 CV)

Auxiliary handle


Depth stop 210mm

Machine cloth

SDS-Plus chuck
Quick change keyless chuck
L-Boxx 136 case and inlay
3 year warranty
(registration required)
1 year standard


Kelvin's Advice

Please NOTE: There are two versions of this tool
GBH18V-26F - changeable chuck version (with both chucks included)
GBH18V-26 - fixed SDS chuck version
Best Features of the Bosch GBH 18 V-26 F
Superb Diameter Capacity in Concrete *26mm*
50% more power - than previous Bosch brushless 18v SDS (GBH18VEC)
Kickback Control & Electronic Precision Control - which increases your safety as the user
Brushless EC motor - for optimum efficiency, it's completely maintenance free too
Vibration Control - decoupled handle for even lower user fatigue
Ergonomic design - best horizontal power transfer to the hole
Drill without dust - thanks to the new integrated, optional GDE 18V-16 dust extraction system
LED light - built in
Overheat Protection - with Electronic Cell Protection (ECP) to protect the battery from overloading, overheating and deep discharge
Super Fast Charging - 80% of the battery is charged after 35 mins
Ideal for electricians and construction workers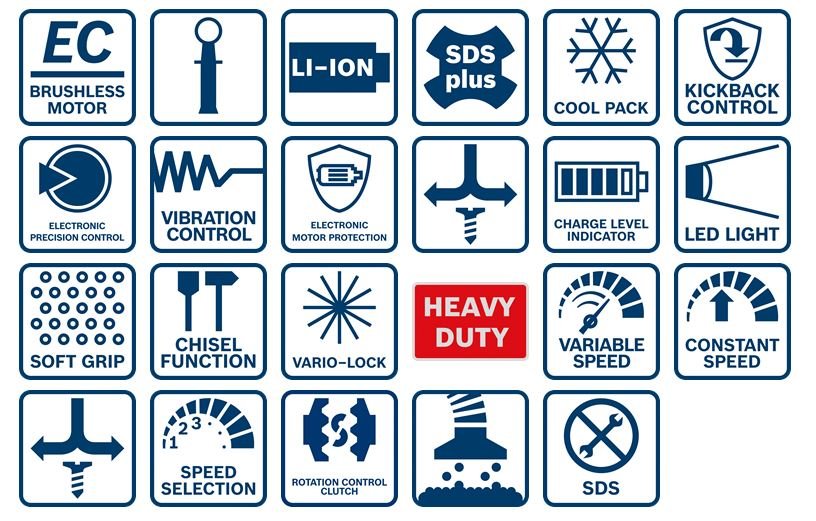 *SPECIAL EDITION*
What are EneRacer Batteries?
Lasts longer at a higher level of power
Ideal for high demand/draw tools
like SDS drills & grinders
Bosch Eneracer batteries provide the latest technology giving you even more power and run time! It's not just about the "6.3Ah" either. They are specifically designed to withstand a higher current for longer which you will see a difference when using high draw/demand tools. Higher current means more heat, which is why Bosch have improved their Coolpack design by developing new CoolPack 2.0 functionality for these batteries.
More DEALS
See our full range of
Cordless SDS Drills


Great Low Prices
See our great range of
SDS Bits & Chisels
Technical Spec.
| | |
| --- | --- |
| Max. impact energy | 2.6J |
| Impact rate at rated speed | 0 – 4.350bpm |
| Rated speed | 0 – 890rpm |
| Bit holder | SDS-plus |
| Size | L 378mm x H 228mm |
| Weight with battery | 3.6kg |
Drilling range
| | |
| --- | --- |
| Drilling dia. in concrete | 4 – 26mm |
| Optimum range in concrete | 8 – 16mm |
| Max. drilling diameter in steel | 13mm |
| Max. drilling diameter in wood | 30mm |
Noise/Vibration
| | |
| --- | --- |
| Hammer drilling in concrete | |
| Vibration emission value ah | 13,0 m/s² |
| Uncertainty K | 1,5 m/s² |
| Drilling in metal | |
| Vibration emission value ah | 2,5 m/s² |
| Uncertainty K | 1,5 m/s² |
| Screwdriving | |
| Vibration emission value ah | 2,5 m/s² |
| Uncertainty K | 1,5 m/s² |
| Noise | |
| Sound pressure level | 91 dB(A) |
| Sound power level | 102 dB(A) |
| Uncertainty K | 3 dB |