Bosch GKS18VLi 18V Circular Saw (2x 5Ah)
The Bosch GKS18V-Li 165mm circular saw has the best cutting performance in its class! This 18v Bosch cordless circular saw comes with 2x 5.0Ah CoolPack Li-ion batteries for an outstanding runtime!
Supplied with
2x 5.0Ah CoolPack Lithium-ion batteries
AL 1860 CV quick charger
165mm TCT blade
Parallel guide
L-Boxx case and inlay
Best Features Of The Bosch GKS18V-Li circular Saw
Best cutting performance in its class: this Bosch 18v circular saw can cut up to 50 chipboards (900mm x 19mm) to length on one battery charge!
Electronic Motor Protection: protects the motor against overload for a long service life
Continuously variable cutting depth via a quick-clamping lever: the Bosch GKS 18 V-Li offers excellent flexibility
Bosch CoolPack batteries: each individual cell is wrapped in a protective coating for an increased runtime and 100% longer service life
Electronic Cell Protection: protects the battery against overload, overheating and deep-discharge
Ergonomic handle with comfort zone in the softgrip area for a secure hold and increased user comfort
Dust extraction directly into the integral dust bag on the tool and/or using an all-purpose dust extractor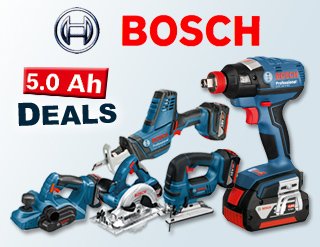 S
uper Low Price!
Don't need batteries?
Get the body-only version
GKS 18 V-Li (Body Only)


*LOW Prices!*
Circular Saw Blades
Excellent range of Bosch,
DeWalt, Trend & more!


Technical Spec.
Voltage: 18v
No-load speed: 3,900 rpm
Blade diameter: 165mm
Blade bore: 20mm
Cutting depth at 90°: 51mm
Cutting depth at 45°: 40mm
Weight (incl. battery): 4.1kg
Sound power level: 106 dB(A)
Sound pressure level: 95 dB(A)
Uncertainty K: 1.5 dB