Bosch GSB18VE2Li Robust 18V Combi Drill (Naked)
The Bosch GSB18VE-2LI RobustSeries combi drill is a heavy-duty edition for bigger drilling tasks.
Best Features of the Bosch GSB18VE 2Li
Slim and well-designed, yet tough and durable
Electronic motor, cell and rotation protection
4-pole motor and newly-designed gearbox
Motor brake for precise work when driving rows of screws
13mm auto-lock chuck
Integrated LED light for a clear view in poor lighting conditions
Practical belt clip - keep the tool within easy-reach
What does this Robust Series model provide that the Dynamic Series model doesn't?
Superior Toughness
The tough Dura Shield housing provides excellent exterior protection and allows the machine to remain fully-functional even after a 2m drop on to concrete.
The internal components are protected by the Electronic Motor Protection, which prevents overload and thereby guarantees a longer tool life span.
The Electronic Rotation Control immediately shuts the machine down if the drill bit jams, preventing any damage to yourself or the tool.
Extra Power
This model is significantly more powerful than its standard Dyanmic Series counterpart; providing an extra 18 Nm of torque, 10mm drilling capacity in wood, 3mm drilling capacity in concrete and 2mm screw diameter.
An auxiliary handle is supplied with the machine to help you keep this extra power under tight control.
Supplied With
Auxiliary handle
Body only tool - batteries, charger and case NOT included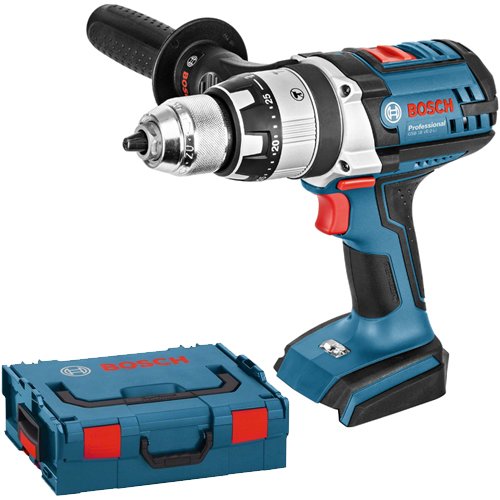 Need a case?
Get the L-Boxx version
for only £102! +VAT
GSB 18 VE-2-Li + L-Boxx
See more of our
excellent Bosch
Body-Only Deals


Low Prices!
View our great range of
Drill Bits & Accessories


Technical Spec.
Max. torque (hard): 85 Nm
Max. torque (soft): 42 Nm
No-load speed (1st gear): 0 - 400 rpm
No-load speed (2nd gear): 0 - 1,850 rpm
Max. impact rate: 27,750 rpm
Chuck capacity: 1.5 - 13mm
Drill spindle thread: 1/2"
Weight (incl. battery): 2.5kg
Torque settings: 25 + 1
Max. drilling diameter in wood: 45mm
Max. drilling diameter in steel: 13mm
Max. drilling diameter in masonry: 16mm
Max. screw diameter: 10mm