Bosch GSB18VLi 18v Combi Drill (Naked)
The Bosch GSB 18 V-Li cordless drill is a DynamicSeries 18v combi drill that provides excellent power and a long lifetime, but is also comfortable and easy-to-use.
Key features of this Bosch GSB body only
4-pole motor and newly-designed gearbox
13mm auto-lock chuck
Motor brake
Electronic cell protection
Slim, ergonomic design and handles with softgrip covering
Integrated LED light, for a clear view
Practical belt clip – helps you to keep the tool in easy-reach
How powerful is the Bosch GSB 18V-Li combi drill?
This Bosch 18v hammer drill has a whole host of great features that will allow you to use it in a range of professional applications. The Bosch GSB18VLI has a 4-pole motor and new gearbox design that combine to provide you with 67Nm of torque, as well as a max drilling diameter of 13mm in masonry/metal and 35mm in wood.
Is this combi drill suitable for Tough trade use?
This Bosch Dynamic Series cordless combi drill is well protected by electronic cell protection, which extends battery life by up to 400%. Another professional feature is the motor brake that enables you to perform quick, easy and precise work when driving rows of screws.
Combined with a body designed to be comfortable to hold and the high-capacity batteries that allow you to work for longer, it is clear that this 18v hammer drill is one of the best cordless drill models you can buy.
Technical Spec.
Torque (hard): 67 Nm
Torque (soft): 28 Nm
Torque settings: 18+1
No-load speed (1st / 2nd gear): 0 - 500 / 1,700 rpm
Max. impact rate: 25,500 rpm
Chuck capacity: 1.5 - 13mm
Drill spindle thread: 1/2"
Weight (incl. battery): 1.9kg
Max. drilling diameter in wood: 35mm
Max. drilling diameter in steel: 13mm
Max. drilling diameter in masonry: 13mm
Max. screw diameter: 8 mm
Supplied With
Body only tool - batteries, charger and case not included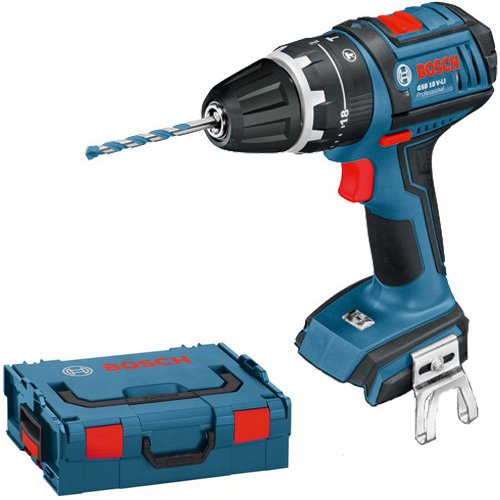 Need a case?
Get the L-Boxx version
for only £64.58! +VAT
GSB 18 V-Li + L-Boxx
More Deals!
excellent Bosch
Body-Only Deals


Low Prices!
View our great range of
Drill Bits & Accessories