Festool PSBC 420 EB Li 18v Jigsaw (5.2Ah)
The Festool CARVEX PSBC 420 jigsaw has a brushless motor, powerful cutting stroke and excellent curve cutting capabilities. This cordless 18v tool comes with 1x 5.2Ah Li-ion battery which features Festool's NEW AIRSTREAM technology for increased productivity!
| | | |
| --- | --- | --- |
| | Supplied With | |
| | | |
| | | |

Best Features Of The Festool PSBC 420 Top handle Jigsaw
Powerful cutting: this Festool 18v jigsaw is capable of 3,800 strokes per minute for rapid work progress
Excellent curve cutting thanks to the threefold blade guide and rigid lifter rod
Brushless EC-TEC motor: maximum performance and efficiency, superior service life and 100% maintenance-free
Maximum precision: this Festool cordless jigsaw has a specially developed hammer guide and guide jaws with parallel adjustment
Make mitre cuts and undercuts of 0-45° with the quick-change angle table
Ergonomic design with low weight and softgrip for optimum handling
High-capacity 5.2Ah Li-ion battery for an outstanding runtime

NEW

AIRSTREAM battery system: targeted cooling via air ducts which reduces the battery's cooling time for a shorter charging process, increased runtime and longer overall lifetime
Compatible with Festool's guide rail system for increased precision
MMC power electronics: constant, adjustable speed and temperature monitoring
Automatic speed setting reduces the speed before the blade makes contact with the workpiece to make starting cuts easier
Splinterguard for splinter-free cuts on both sides
Quick, tool-free changes of the blade, baseplate and table
Easily visible scribe mark thanks to the stroboscope light and powerful dust extraction
Electronic on/off switch on both sides: easy to reach in every grip position
Battery charge status indicator ensures that you never run out of power unexpectedly
ADD

Jigsaw Blades

Get a Festool quality cut
(5pk)
OR
See More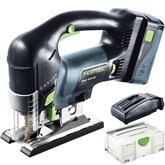 SEE More Options
PSBC 420 18V
5.2Ah/6.2Ah Kits
Technical Spec.
Voltage: 18v
Stroke rate: 1,000 - 3,800 min⁻¹
Pendulum cover adjustment stages: 4
Cutting depth in wood: 120m
Cutting depth in non ferrous metals: 20mm
Cutting depth in steel (soft): 10mm
Weight: 2.4kg
Part no: PSBC 420 Li 5,2 EB-Plus GB (201381)