Festool QUADRIVE PDC 18v Combi Drill (5.2Ah)
The Festool QUADRIVE PDC 18/4 combi drill has a brushless motor and 4-speed gearbox for easy fastening, drilling and impact drilling. This cordless 18v tool comes with 2x 5.2Ah Li-ion batteries which feature Festool's NEW AIRSTREAM technology for increased productivity!
Supplied With

2x 5.2Ah AIRSTREAM batteries

TCL 6 rapid charger

CENTROTEC tool chuck and bit holder

FastFix 13mm keyless chuck

Side handle

PZ2 bit

Best Features Of The Festool PDC 18/4 Combi Drill
High torque and large drilling diameters: this Festool cordless combi drill is a universal solution for fastening applications
Up to 100% greater fastening capacity thanks to the combination of an EC-TEC motor and high-quality Lithium-ion battery technology
Brushless EC-TEC motor with integrated motor management: maximum performance and efficiency, superior service life and 100% maintenance-free
4-speed gearbox that is capable of 3,800 rpm for quick, clean drilling
Axial impact feature for drilling in brickwork, like masonry and stone, up to 10mm
Intelligent drive control: ensures that the motor runs true and the speed is adjusted accurately
Electronic torque limiter: the drill automatically shuts down when the preset torque value is exceeded
Extremely robust: this Festool 18v combi drill has metal gears that are practically indestructable to withstand its enormous forces and speeds
High-capacity 5.2Ah Li-ion batteries for an outstanding runtime
NEW AIRSTREAM battery system: targeted cooling via air ducts which reduces the battery's cooling time for a shorter charging process, increased runtime and longer overall lifetime
FastFix interface: rapid, tool-free changing of attachments - can be retrofitted in an instant to become a powerful screwdriver!
CENTROTEC chuck and bit holder: rapid bit changes with one hand movement
LED light for a clear view of the work area
Battery charge indicator ensures that you never run out of power unexpectedly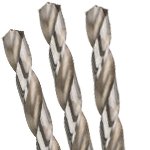 ADD
Drill Bits
Great range IN STOCK
Drilling Accessories
VERY Low Prices!
Technical Spec.
Voltage: 18v
Gears: 4
Idling speed 1st gear: 0 - 400 min⁻¹
Idling speed 2nd gear: 0 - 850 min⁻¹
Idling speed 3rd gear: 0 - 1,850 min⁻¹
Idling speed 4th gear: 0 - 3,800 min⁻¹
Max. number of strokes: 76,000 min⁻¹
Max. torque in wood: 40 Nm
Max. torque in steel: 60 Nm
Drilling diameter in wood: 50mm
Drilling diameter in steel: 13mm
Drilling diameter in brickwork: 10mm
Chuck range: 1.5-13mm
Weight (incl. battery): 2kg
Part no: PDC 18/4 Li 5,2-Plus GB (574705)