Festool TS 55 R EBQ Plunge Saw and Guide Rail 240v
The Festool TS 55 REBQ-Plus plunge saw (240v) is the latest version of the ever-popular TS 55 model. This plunge saw has the same main features as the Festool TS 55, however additional features allow the machine to cut closer, cleaner and finer than ever before.
This version of the Festool TS 55 REBQ-Plus is supplied with a saw blade, splinterguard, guide rail and systainer; allowing you to get to work straight away!
What are the key features of this Festool plunge saw?
Make flush cuts against walls thanks to the newly designed housing
Guide wedge allows simple positioning in existing joint and ensures that you work in safety
Adjustable viewing window and improved dust extraction ensures that you have a clear view of the cutting line
- 1° to + 47° angle range with locking positions and fine adjustment improves your working accuracy
Full compatibility with original FS guide rail and accessories
What Applications Can The Festool TS 55 REBQ-Plus Be Used For?
Making precision cuts in materials up to 55mm thick
Cutting interior doors to length using the guide rails
Manufacturing expansion joints in parquet flooring and false joints
Cutting chipboard to size
Cutting and processing plasterboard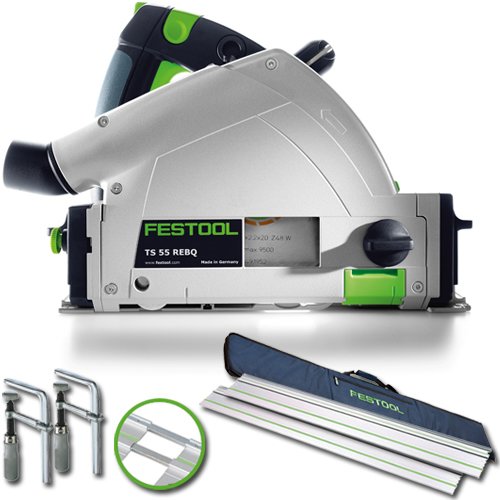 *PACKAGE DEAL*
with 2x guide rails, rail bag,
connectors, clamps & more!
Technical Spec.
Voltage: 240v (click here for 110v)
Power consumption: 1200W
Angle range: - 1° to + 47°
Cutting depth: 55mm
Cutting depth at 45°: 43mm
Sawing 'close to edges': min. 12mm
Supplied With
HW universal saw blade Z48
Splinterguard
Systainer SYS 4 T-LOC
1400mm guide rail