Honda DC Outlet Cables for EU10i, EU20i, EU30iS, EX7
This Honda DC outlet cable allows you to charge a 12v DC battery with your Honda generator.
Simply plug the cable into the generator's DC outlet and attach the crocodile clips to the battery to start charging!
This charging cable can be used with the following Honda generators:
EU10i
EU20i
EU26i
EU30i
EU30iS
EX7
Technical Spec.
12v DC cable
Cable length: 2m
Part no: 32650-892-013


Authorised Honda Dealer & Repair Centre
We service and repair Honda Generators
Use our Glasgow Repair Centre
for your annual generator service
to keep your warranty valid.
Perfect if you're close by!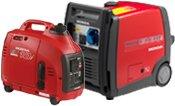 *Great Prices*
See our range of
Honda Generators