Honda Generator 2 Wheel Kit (EG + EM Ranges)
This Honda 2-wheel kit (part no: 06710-Z22-A40ZA) allows you to transport your Honda generator with great ease.
These machines can be large and heavy, which makes them difficult to manoeuvre. However, this transport kit allows you to do so with minimal effort.
The kit consists of 2 heavy-duty, puncture-proof wheels; 2 easy-grip handles; 2 robust legs; and mounting hardware.
This wheel kit can be used with all EG and EM Honda generators, including:
EG4000
EG5000
EG5500
EG6500
EM4500S
EM5500S
EM65iS


Authorised Honda Dealer & Repair Centre
We service and repair Honda Generators
Use our Glasgow Repair Centre
for your annual generator service
to keep your warranty valid.
Perfect if you're close by!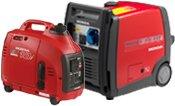 *Great Prices*
See our range of
Honda Generators