Honda Parallel Operation Cables EU20i
These Honda parallel operation cables (part no: 32360-Z07-C61) allow you to link two EU20i generators together to get as much as double the output of a single unit.
This provides extra power when you need it most, avoiding the need to purchase a larger, heavier generator.
Note: you can only parallel link two identical Honda generators together, i.e. you cannot link an EU20i with an EU30i.


Authorised Honda Dealer & Repair Centre
We service and repair Honda Generators
Use our Glasgow Repair Centre
for your annual generator service
to keep your warranty valid.
Perfect if you're close by!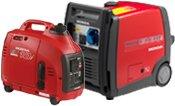 *Great Prices*
See our range of
Honda Generators