Makita DTM50Z 18v Multi-Tool (Naked)
The Makita DTM50Z LXT 18v multi-tool is capable of cutting, sawing, scraping, sanding, grinding and polishing different materials.
This body only tool is packaged without batteries, a charger or case; offering an economical way of adding it to an existing kit without having to purchase unwanted accessories.
What are the key features of this cordless makita Multi-Tool?
Accessories can be installed at 30º increments across 360º allowing you to work in whichever position is most comfortable
Well-positioned on/off switch for easy operation with your thumb
Variable speed control: tailor the speed to the application
Hex wrench holder on the tool body
Dust extraction attachment
Uses OIS interface
Supplied with
Hex wrench
Bare tool: batteries, charger and case not included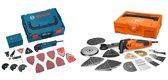 More Deals!
See our full range of
cordless multi-tools!


Technical Spec.
Voltage: 18v
Oscillation Angle: 3.2º
Oscillations per min: 6,000 - 20,000
Vibration K factor: 1.5 m/sec²
Vibration cutting metal: 5 m/sec²
Vibration cutting wood: 9.5 m/sec²
Vibration chiseling: 7.5 m/sec²
Vibration sanding: 2.5 m/sec²
Net weight: 2kg