Panasonic 18v Li-ion Battery 4.2Ah
The Panasonic EY9L51 B31 18V 4.2Ah Lithium-ion battery is compatible with all 18V Panasonic slide-type tools (including dual-voltage and triple-voltage), and the EY0L81B and EY0L82B chargers.
What are the key features of this 18V Lithium-ion battery?
250% longer lifetime than Panasonic's previous Lithium-ion batteries
Individual monitoring of battery cell voltage: each 3.6V segment is monitored by a sensor to ensure optimal discharge control, preventing overcharging and overdischarge
Battery Overheat Protection Sensor (OPS): a temperature sensor cuts-off power to the motor before the battery's temperature reaches a dangerous level and notifies the user via a flashing light on the tool's control panel
Heat Resistance Layer (HRL) technology: the battery cells are separated by a special coating which prevents the battery from overheating
Li-ion technology: no memory effect, no lazy battery effect, virtually no self-discharge, excellent power-to-weight ratio, and the ability to withstand colder temperatures in working order
Technical Spec.
Voltage: 18V
Capacity: 4.2Ah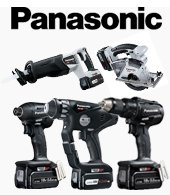 More DEALS!
See our complete
range of cordless
Panasonic Tools
Kelvin Power Tools only distributes genuine, brand new power tool batteries. We do not sell copy batteries.