Panasonic 3.6v Li-ion Battery 1.5Ah
The Panasonic EY9L10B 3.6V 1.5Ah light-duty Lithium-ion battery is compatible with the EY0L10B and EY0L11B chargers, and all 3.6V Panasonic tools that use straight shape batteries.
What Are The Main Features Of This 18V Lithium-Ion Battery?
Very compact and lightweight for easy working in confined/awkward spaces and overhead
Battery protection feature which prevents excessive discharge: activates just before the battery loses its charge and alerts the user via a flashing light on the tool's control panel
Li-ion technology: excellent power-to-weight ratio, no memory effect, no lazy battery effect, virtually no self-discharge, and the ability to withstand colder temperatures in working order
Technical Spec.
Voltage: 3.6V
Capacity: 1.5Ah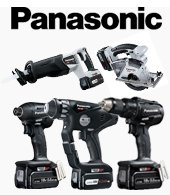 More DEALS!
See our complete
range of cordless
Panasonic Tools
Kelvin Power Tools only distributes genuine, brand new power tool batteries. We do not sell copy batteries.