Panasonic EY45A2 18V Circular Saw (5Ah)
The Panasonic EY45A2-LJ2G is an 135mm 18 volt circular saw with Dual Voltage capability. So it still works with your 18v and 14.4v batteries. It now comes complete with 2x 5.0Ah batteries for the best run time available!
Best Features of the Panasonic 18v Circular Saw
Tough-Tool IP 56 dust and splash protection
High-performance 5.0Ah Li-ion battery pack
Lightweight and ergonomic design with softgrip covering
Innovative guard design allows steel, wood and plastic cutting blades to be used safely
Transparent window for easy to see the cutting edge
Electric speed control
3-way dust control system
LED light
Suitable Applications
This cordless circular saw is ideal for a range of applications in metal construction, electric installation work, plumbing, and general construction.
Dual Voltage
All of the tools in the Panasonic dual voltage range have a sensor located in the body that detects the battery voltage. The machine then changes the current and voltage flow to enable the best performance, which allows you to customise your tool to suit the job.
If you require high power and the longest runtime then use the 18.0v 4.2Ah batteries included in this kit. If you need a lighter machine to use in awkward positions then swap to 14.4v batteries with a smaller power reserve!
Supplied With
Metal cutting blade
2x 18v 5.0Ah Li-ion batteries
Fast Charger
Carry case
Extended 3 Year Warranty
(registration required)
1 Year as Standard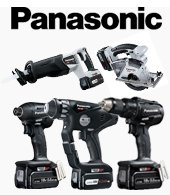 More DEALS!
See our complete
range of cordless
Panasonic Tools
including
MORE
Panasonic
Circular Saws



Low Prices!
Circular Saw Blades
Excellent range of Bosch,
DeWalt, Trend & more
Technical Spec.
Panasonic Dual Voltage: 18v / 14.4v
Charging time
Usable: 65min
Full: 80min
Speed at no load in rpm: 4.500
Blade size (outer diameter): 135mm
Max. cutting depth: 46mm
Size (W x L x B): 160 x 343 x 228mm
Weight (incl. battery): 2.75kg