Panasonic EY7443 14.4v Drill Driver (Naked)
The Panasonic cordless drill driver EY7443 X32 is a naked 14v drill driver with a special AutoGear feature that will improve your working efficiency. This is a body-only power tool, which makes it an economic way to expand any other 14.4v cordless kits.
What are the main features of this Panasonic 14.4v Drill Driver?
Overload and "Kick-back" protection
3 gear settings, including AutoGear
Electric brake
Electric speed control
Softgrip body covering
Belt hook and LED light
What is the Panasonic AutoGear featured on this drill driver?
Panasonic power tools are always innovative, and this one is no different. It features an automatic gear selection mechanism that changes the power to suit the application as you work. This not only makes your work easier, saving you time and effort, but also economises battery power to give you a longer runtime. It works like this:
The machine starts in high gear at full speed, for fast work progress
As you continue your work, the tool regulates the power and gear as required
The machine then finishes the job on low gear at full power
No stopping required! It even works in reverse to enable the quick and easy unscrewing of screws.
What are the protective features of the EY 7443?
Both you and the machine are well protected by overload protection that will cut off the power to the motor in the case of extreme loading. This machine also features kick-back protection that reduces potential injury to hand or wrist in the case of a bit or holesaw suddenly jamming.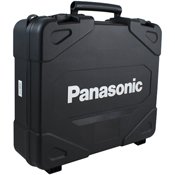 ADD

a Case
Compatible with
this EY7549 X32
Only £13.80!
Panasonic Tool Case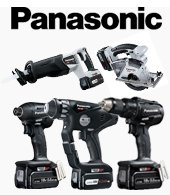 More DEALS!
See our complete
range of cordless
Panasonic Tools
Technical Spec.
EY7443X
Charginge time (usable/full): 50/60 mins
Speed at no-load
Low: 60-400 rpm
High: 160-1400 rpm
Max torque (stalling/instant): 28/41.5 Nm
Clutch torque: 0.5-4.4 Nm
Clutch stages: 18 + drill position
Max drilling diameter
Wood: 35 mm
Metal: 13 mm
Max holesaw size (metal): 33 mm
Size (W x L x B): 62 x 199 x 254 mm
Weight (incl. battery): 1.85 kg
Supplied with
Naked tool - no batteries, charger or case supplied.
The EY7443 is ideal for general construction, interior installation, electrical installation, assembly work in carpentry and locksmithery.