Panasonic EY7552 18v Impact Wrench (Naked)
The Panasonic EY7552 X32 cordless impact wrench is an 18v body-only machine that has been designed for heavy-duty use, but is still comfortable to use. It is packaged without batteries, charger or case, making it a great addition to your pre-existing Panasonic cordless kit.
What are the key features of this heavy-duty impact wrench?
New twin hammer block design
Rubber front housing protector
"C SPRING" retainer ring
Compact and lightweight body
Battery capacity indicator
Variable speed control
Electric brake
How is the Panasonic EY7552 suitable for heavy-duty trade use?
The main professional feature that makes this 18v impact wrench suitable for heavy-duty use is the twin hammer block design. The combination of main inner hammer plus sub outer hammer helps to reduce vibration and noise levels, for your safety, and also allows the tool to be smaller and lighter whilst still providing you with high power levels.
Other features that make the EY7552 robust and durable include the rubber front housing cover that protects both surrounding materials and the tool itself from damage, and the C-SPRING retainer ring that allows you to quickly and easily change sockets for temporary use.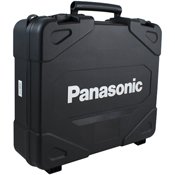 ADD

a Case
Compatible with
this EY7549 X32
Only £13.80!
Panasonic Tool Case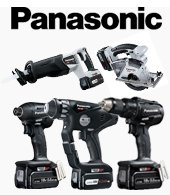 More DEALS!
See our complete
range of cordless
Panasonic Tools
Technical Spec.
Charging time (usable / full): 55 / 70min
Max. torque: Low 50Nm Middle 140Nm High 470Nm
Speed at no load in rpm: 0 – 1.550min-1 (rpm)
Impact in rpm: 0 – 2.400min-1 (rpm)
Size (W x L x B): 77 x 214 x 252mm
Weight (incl. battery): 2.6kg
Supplied with
Naked tool - no batteries, charger or case included