Panasonic EY75A2X DualV Impact Wrench (Naked with Case)
The Panasonic EY75A2 is an impact wrench that's part of Panasonic's new Dual Voltage range of machines. This is a body only version (EY75A2X32) with carry case, providing you with a cost-effective solution for expanding any Panasonic Lithium-ion 14.4v or 18.0v kit. This Panasonic wrench now comes in carbon black as standard.
Best features of the Panasonic EY75A2X32
Dual Voltage - compatible with 18v or 14.4v batteries
Brushless Motor - better performance and extended lifetime
3 Impact Speeds
Electric Speed Control - with electric brake and reverse operation
Lightweight at only 1.65kg and comfortable shape
Tough Tool IP dust and splash protection
Handy belt hook and LED light
Suitable Applications
The Panasonic EY75A2 is extremely popular with scaffolding contractors and is also ideal for tasks like air conditioning installations, automotive repair and steel fabrication.
Why should I buy a Dual volt tool?
These innovative Panasonic tools have a sensor in their body that detects the battery voltage and changes the current and voltage flow to enable the best performance.
This allows you to use the batteries to customise your tool to suit the job: use 18.0v 4.2Ah batteries for super-high power and a long runtime, or use 14.4v batteries with a smaller power reserve for a lighter tool that's easier and more comfortable to use in awkward positions.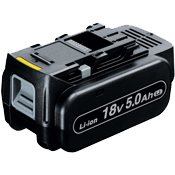 ADD
a 5.0Ah battery
Compatible with
existing charger


Panasonic DEALS
See our complete
range of cordless
Panasonic Tools
Technical Spec.
Voltage: 18v or 14.4v
Drive: 1/2" square
Hybrid switch
No-load speed
Low: 0-1000 rpm
Med: 0-1400 rpm
High: 0-2300 rpm
Max torque:
Low: 50 Nm
Med:140 Nm
High: 205 Nm
Impact:
Low: 0-2000 bpm
Med: 0-2800 bpm
High: 0-3500 bpm
Size (w x l x b): 61 x 155 x 242mm
Weight (incl. 14.4v/18v battery): 1.55/1.65kg
Supplied With
Naked tool: body only without batteries or charger
Carry Case included
Extended 3 Year Warranty
(registration required)
1 Year as Standard