Paslode IM350-Plus First Fix Nail Gun (NiCd)
The Paslode IM350+ framing nail gun (NiCd) is one of Paslode's biggest success stories, and is arguably the most popular nail gun on the market. The Paslode IM350+ NiCd is Officially Discontinued and now superceded by the IM350+ Lithium.
You will find this tool to be ideal for putting up timber frames, stud work, floor boarding, soffits, roof battening, shuttering, panelling, packaging, decking, cladding, fencing, and joists.
Best features of the Paslode IM350-Plus nailer
Excellent reliability and extended service intervals
Non-slip, soft-grip handle improves your working comfort and reduces fatigue
Nose probe features more teeth, to ensure more accurate placement of the nail
Rafter / belt hook, allows you to always keep the tool within easy reach
Follower guide, makes it easy for you to load nails
Less force required for you to operate the tool, to reduce fatigue
Pinch and slide tool free depth of drive adjuster
Technical Spec.
Weight: 3.4kg
Dimensions: 370 x 305 x 102mm
Nail range: 51 - 90mm
Max. cycle rate per sec: 2 - 3 nails
Max. cycle rate per hour: 1,000 nails
Max. cycle rate per day: 4,000 nails
Magazine capacity: 55 nails (1 strip)
Fuel cell capacity: Approx. 1,100 nails
Battery capacity: Approx. 4,000 nails per full charge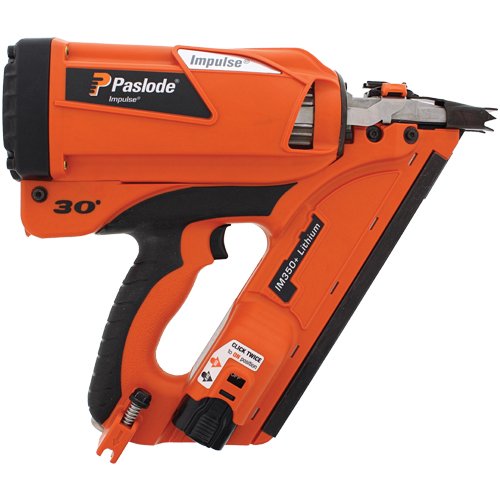 9000 shots per charge!
Twice the amount of this
NiCad battery version
Paslode IM350+ Li-ion
We're a Certified Paslode Dealer
& Service Centre
Kelvin Power Tools Sales, Expertise & Servicing
See Our Complete Paslode Shop

Low Prices!
51mm, 90mm & more
Paslode IM350+ Nails



UK-wide Paslode Service
We're here when you need
Fast Paslode Repairs