Paslode No-Mar Probe Tip (IM350-Plus)
This Paslode no-mar probe tip (012082) is compatible with all IM350+ and IM350 nail guns.
This non-marking foot is easily fitted on to the nose of the nailer to protect the workpiece against any marks or damage that the normal nail gun tip could potentially cause. This nose piece is particularly handy for nailing applications in soft materials, like plasterboard, beading, mouldings and architrave.
Note: Kelvin Power Tools only distributes genuine, brand new Paslode accessories. We do not sell copy products. It is important that you only use official Paslode accessories with your tool for 100% compatibility; avoiding the compromisation of performance and warranty.

Certified Dealer &
Service Centre
Kelvin Power Tools Sales, Expertise & Servicing
See Our Complete Paslode Shop



More DEALS
Paslode Nailers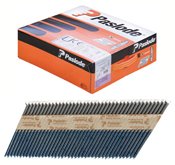 Low Prices!
51mm, 90mm & more
Paslode IM350+ Nails

Paslode Repair Service
Find out more about
our Fast Paslode Repairs