Porta-Nailer 402 Floor Nailer
The Porta-Nails PN-402A angled floor nailer is a hugely popular tool with the flooring trade. The Porta-nailer is the flooring tool by which all others are judged!
Key features of the Porta-Nailer 402A
Assembled to fit from 15mm to 25mm solid wood flooring
Takes all sizes of 16 Gauge T nails - 32mm, 38mm and 50mm
Lightweight but robust, with high duty aluminium construction
A mylamar plastic base prevents marking of wood floor surface
Seat nail in one, two or three strikes - you choose, the ram does not return until the cycle is completed
Can be converted to face nailer with purchase of face nailing shoe
Self seating ensures 100% accuracy
Always ensures the tightest possible fit
Weight: 3.2 kg
Complete with...
402A Porta-nailer with extension handle
angled shoe for 5/8" & 33/32" tongue & groove flooring
mallet
wrenches
safety glasses
carrying case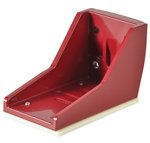 See our Porta-Nailer
nails and accessories