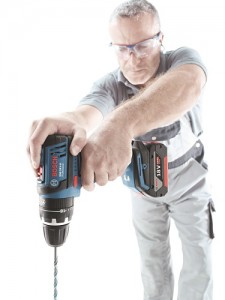 Nowadays, if you go to choose a cordless power tool you can be faced with an overwhelming range of options.
Voltages range from 10.8v through to 36v. The number of manufacturers offering cordless options has never been greater; Bosch, DeWalt, Makita, Festool and Panasonic, to name a few, are all competing in a growing market for cordless tools. They're also increasing the range of tool types available as cordless products too.
Cordless power tool research and development has advanced rapidly in recent years. The improvements have brought more power, longer runtime and faster charging. Lithium-ion is now the leading choice of battery superseding Nickel Cadmium (NiCd) and Nickel Metal Hydride (NiMH). They are lighter and more efficient.
18V Li-ion has become the most widely used system of cordless power tools. It is especially popular with professional tradesmen. But why exactly is that the case?
Why are 18V cordless systems so popular?
It's largely because of the power to weight ratio the 18V option offers.
Take for instance the most popular 18V cordless power tool in the UK today, the combi drill. It is the staple power tool of choice in the construction industry – a must have! Power outputs below 18V are perceived to lack power, but anything more powerful and the weight of the tool becomes an issue for most users. The 18V cordless drill however, offers plenty of power at a comfortable weight.
There is one product within the 18V cordless drill range that is standing out as by far the most popular: The Bosch GSB 18V Li. This is a cordless combi drill with an 18V 4.0Ah Lithium-ion battery.
What features make the Bosch GSB18VLi one of the most popular 18V cordless drills?
One of the best features of the 'GSB' is in its battery: its "Coolpack" cooling system. This is one way cordless technology has been able to advance further. By putting in place a means to reduce the build-up of heat in the battery, it will last longer without charging. Not to mention a longer overall battery life as well. So the efficiency of these tools is only improving.
Another great feature it shares with most combi drills, is its ergonomic design for handling and balance. It sits very comfortably in the hand which has great benefits for its users. A tool as diverse as a combi drill gets used very frequently on job sites so comfort is of high importance.
Why else are 18V power tools dominating the cordless market?
The 18V Li-ion ranges from the various brands are not only often the largest, but also the main focus of the research and development. So because they get the most attention, the 18V models tend to feature the most up to date technology. This lets them deliver the best performance and represent the best value for money compared to other voltage systems.
So for cordless solutions, 18V Li-ion models currently have the best power to weight ratio. They offer the broadest range of tool types and feature the most advanced technology. This is why it has become the platform of choice for cordless solutions for professional tradesmen.
Are you looking to buy a cordless power tool?
At Kelvin Power Tools, we provide an excellent range of cordless power tools including a vast array of 18V options. We also have the Bosch GSB 18V Li Combi Drill which comes in an L-Boxx carry case with 2x 18V 4.0Ah Li-ion batteries and a charger.