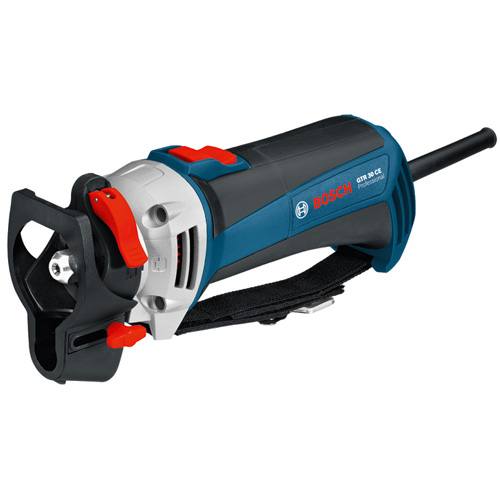 Attention all tilers ….. have you ever had problems drilling and cutting ceramic tiles?  Launched in late 2010, the Bosch GTR 30 CE Tile Router is the tool all tilers have been waiting for.  Using specially designed diamond tipped cutters this tool effortlessly drills perfect holes in the toughest ceramic tiles.  The tool can easily be used freehand to cut the most awkward shapes and with a host of features including soft start, constant electronic and a work light excellent results are quickly and easily achieved.  The GTR 30 CE is currently available in kit form packaged up with a selection of hole cutters, a router bit and dust extraction hose.  The kit also includes the Bosch GTD1 tile dock which makes easy work of clamping most tiles up to 60cm square.
The GTR 30 CE will be featured at our forthcoming demo day on Friday February 4th (view full demo day diary), so why not bring along a sample of the tiles you use and see this superb tool in action?
See full Bosch GTR 30 CE Tile Router product details and demo video by following the link.
For further info please call 0141 883 4794 or email sales@kelvinpowertools.com.
About Kelvin Power Tools
Kelvin Power Tools has over 30 years experience specialising in the supply of portable power and battery operated tools supported by our fully approved service and repair centre. An Approved Distributor for Bosch, Panasonic, Metabo, Makita, DeWalt, Festool and Paslode, Kelvin Power Tools truly is a one stop tool shop for the professional who uses site power tools.