Most of you already know that Bosch have an extensive range of power tools, with names and codes that can be very confusing. Well, it turns out that their accessories are no different! There are many different Bosch drill bit types at different price points, all for different materials and different specific tasks.
Have you ever had a drilling mishap that resulted in a broken bit or damaged materials? Are you often unsatisfied by the speed of your drilling, or the quality of the results? Do you ever wonder if you're really using the right bit for the job?
Then you need brush up on your knowledge with our Essential Guide to Bosch Drill Bits!
Click the image below to enlarge.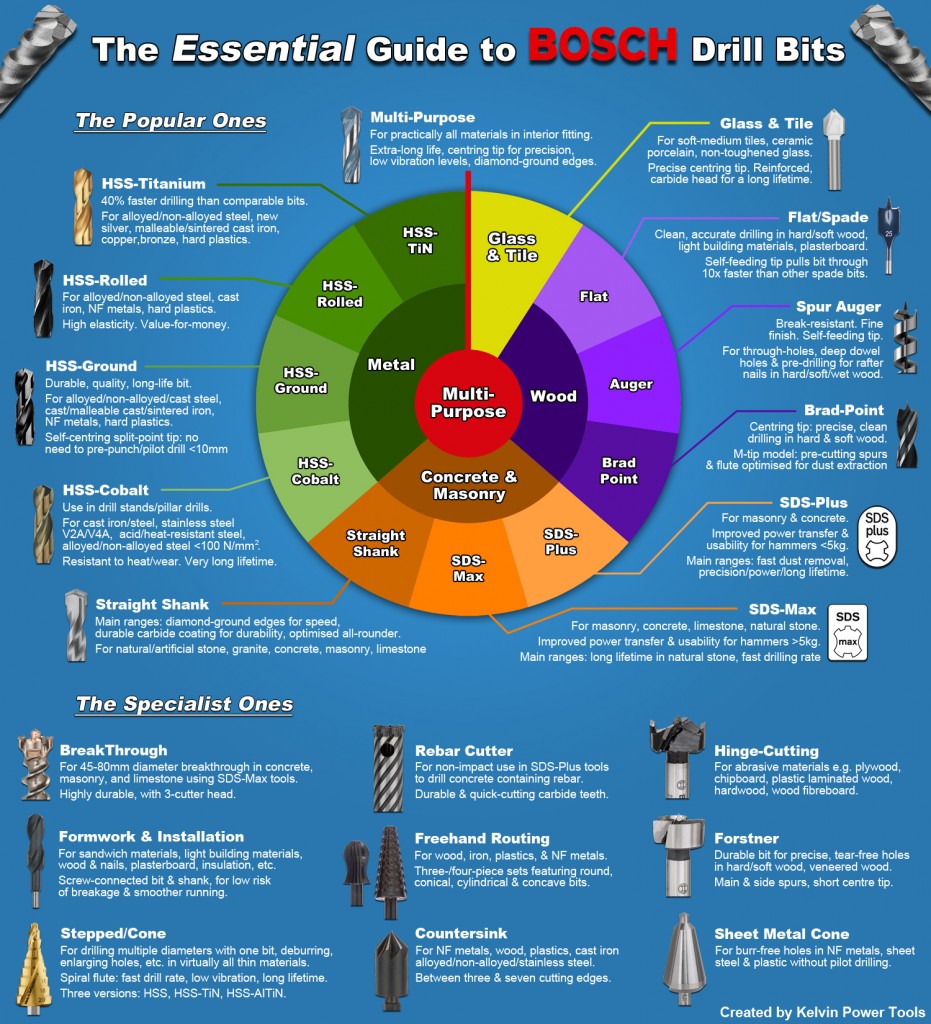 Some Definitions
SDS-plus:  These bits have shanks with 2 open grooves that are held by driving wedges, and 2 closed grooves held by locking balls. This design allows the drill bit to slip in and lock with no tightening needed (it can be released just as easily), which greatly improves efficiency.
The design also allows the bit to move backwards and forwards freely. This means that the chuck does not need to be moved as much, and the drill can therefore provide more power with less effort from the user.
SDS-Max: These drill bits are similar to SDS-Plus, but are for much more heavy-duty machines. They have 3 open grooves instead of 2, and locking segments rather than locking balls. The drill bit still simply slips in and locks without tightening, and still moves backwards and forwards freely.
HSS: This stands for "high speed steel". Bits made from this material are very hard and have high heat resistance. This allows them to drill into a range of materials including metal, hardwood and hard plastics. They have come to replace carbon steel bits, as they cut at a higher speed.
Conclusion
Based on the rather substantial list above, I think it's clear that Bosch have an extensive range of drill bits for use in every material. Whatever the task and whatever your priorities, Bosch have a drill bit range to suit.
If your focus is on getting the most bang for your buck, then the basic ranges still pack enough punch to get the job done quickly and to a high standard. If you want to splash out and get the best bit available, then there are many ranges that are jam-packed with features that improve speed, finish, and user-friendliness.
If this post has given you a hankering for some new drill bits, then you can check out our range right here!
What drill bits do you most commonly use, and why?