Bosch have developed many innovations for cordless power tools in recent years, including Coolpack batteries, Electronic Rotation Control, and brushless motor technology.
When autumn 2014 rolls around, Bosch will have added another great innovation to the list: wireless charging for power tool batteries. Read on to find out more… Unless you don't need to find out more and just want to get to the goodies? Well then here they are!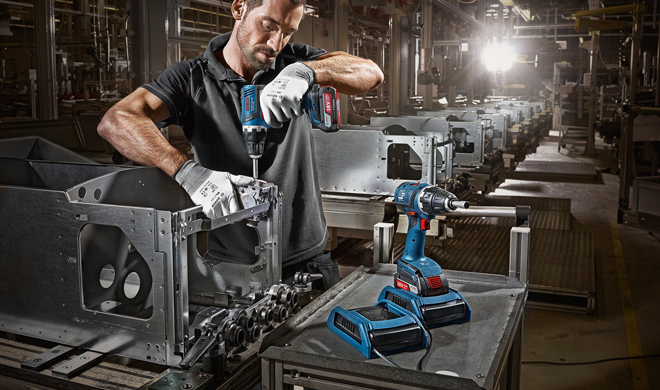 What Is Wireless Charging?
Put simply: contactless charging technology allows you to recharge the battery without physically connecting it to a charger! You can simply rest the tool on the charger whenever you aren't using it to give the battery a quick top-up.
One of the key developments that made this system possible is Lithium-ion battery technology. Unlike NiCd and NiMH batteries, Li-ion batteries can be charged at any point in their cycle without a problem. This means that there is no longer a need to let a battery run down before you charge it – you can top up the charge as often as you like!
You still need a special model of Li-ion battery for this system though, as well as a special charger. So make sure you buy the full kit!
How does Wireless Charging Work?
Wireless battery charging works in a similar way to induction heating, but instead of generating heat the current is used to charge the batteries. This technology is used by other devices such as electric toothbrushes and mobile phones, but the Bosch wireless charging system is much more powerful. In fact, it can reach the same charging times as a conventional power tool battery charger!
The transmitter (the charger) contains a coil that generates an alternating magnetic field. The receiver (the battery) also contains a coil, which is penetrated by the alternating magnetic field. This interaction induces a voltage and generates a current flow, which charges the battery.
Still confused? Well check out Bosch's handy illustrative video below:
 What are the Benefits of Wireless Charging?
Improved Working Efficiency – The ability to boost the charge of your batteries easily throughout the working day means that you spend less time swapping batteries and putting them on charge. You also will never have to worry about scheduling charging times again!
Cost-Effectiveness – You will only need to have one battery per frequently-used tool when using this system. At most you might want a second battery in order to have a back-up, but this still presents significant cost savings. This is especially true if you can share a back-up battery between team members. There is also no need for expensive industrial charging stations.
User-Friendliness – This wireless charging system is very easy to use and integrate into your workflow. Whenever you stop using a tool, you simply put it down on the charging dock instead of the table! It couldn't be easier. You can even buy a frame that can be mounted on workbenches, shelves or other work surfaces. The frame will serve as a flexible yet secure holder for the charger, battery and tool.
Improved Durability ­– The battery stays firmly connected to the machine for a much greater percentage of time, which has two main advantages. Firstly, the connection points between battery and charger/tool are much slower to weaken. Secondly, a better seal against dirt, water and other contaminates is maintained. Essentially, cordless charging lowers the risk of damage to your kit and increases its overall lifetime.
Intelligent Charging – The "wireless intelligence" feature of this system ensures perfect communication between battery and charger. It starts the charging process, and then adapts it to various conditions such as temperature and battery status as it charges. Despite all of this technology, the charger is still nice and compact.
Complete Compatibility – The batteries in this system are 100% compatible with all Bosch Lithium-ion tools of the appropriate voltage, so there's no need to invest in an entirely new range of tools.
Two-Year Service – This system is still covered by Bosch's great two-year warranty!
Spare and wear parts are also replaced for free during this time.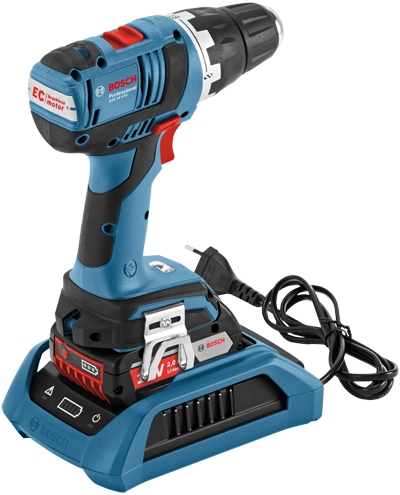 So What's the Verdict?
Everything we've seen of this, we like. The fact that you can work exactly as you did before but charge the batteries at the same time should be a great advantage in many trades, and the increased durability will be appreciated by anyone who works in environments with a lot of dust and debris.
We're still waiting on information about pricing, so it's hard to say exactly how accessible this system will be and exactly where the balance between initial outlay and working improvements will lie. However, our bet is that this will be a great investment whatever the price.
We think that the Bosch Wireless Charging System should be a great addition to many cordless power tool kits, but what do you think? Let us know in the comments!
UPDATE: The first Bosch wireless charging product is now available for you to buy here. The batteries have a smaller capacity than the current non-wireless product range, but you shouldn't need such high battery capacity if you're able to constantly charge the batteries throughout the day! Got one already? We'd love to hear what you think of it in the comments!