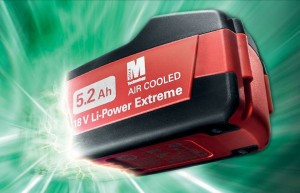 Almost a year ago Metabo brought out their 18v 4.0Ah Lithium-ion batteries, and with it came their first Pick'n'Mix kit where you could choose two of ten tools to go with your starter pack.
This year they've upped the pressure on other manufacturers by launching an even larger 5.2Ah battery, as well as a Pick'n'Mix kit that now includes eighteen fantastic naked power tool options.
The Details
The basic Metabo 5.2Ah Kit kit includes:
> Three 18v 5.2Ah PowerExtreme batteries. These air-cooled batteries not only provide 75% more runtime than 3.0Ah batteries, but they are not a gram heavier! They are also very heat and cold resistant, are compatible with all current and future Metabo cordless machines and chargers, and feature the standard Metabo 3 year warranty.
> An excellent air-cooled charger that charges quickly but still keeps your battery safe, for a longer lifetime.
> A large Metabo roll-along kitbag, great for transporting your kit.
Once you've got this kit in your hands (or your basket!) you can choose any number and variety of Metabo naked machines to build a kit that's personalised for you and your needs. This kit is also available with 4.0Ah batteries, and until June 30th we'll even send you a free BSA 14.4-18 LED site lite with every 3-carcass kit. So what are you waiting for? Check out our Metabo 5.2Ah kit page for more info!