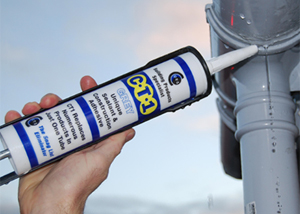 Sealants and adhesives are important parts of all sorts of trades, so it's not surprising that many users demand the highest quality possible.
A tight seal and strong bond are always necessary, but there are many other elements that go into a high quality product. Ease and flexibility of use, compatible materials, curing time, and durability are all important for you to consider when choosing a product.
CT1 provides excellent results in every one of these areas, making it a must-have for a busy tradesman. What makes it so special, you ask? Read on to find out…
What are the key features of this C-Tec Sealant and Adhesive?
One of the basic features of CT1 is the wide range of materials that it will bond. These materials include:
Glass and mirrors
Wood
Polystyrene
Stone
Metal (including lead)
Tile
Marble and granite
This flexibility allows you to use this product in a huge range of applications, removing the need for many different tubes cluttering up your van. Installing granite worktops in a kitchen, putting up mirrors without the fuss of tile drilling, and sealing joints of all types are quick and easy to do with this product.
Not only does CT1 bond a wide range of materials, it also does so quickly and securely. It can be overpainted in a matter of minutes, and is easy to remove from both skin and surrounding surfaces. All of this allows you to perform pre-decorating jobs like sealing skirting boards and filling settlement cracks very rapidly. This means that you can get on with the main job as quickly as possible!
Another great advantage of this product is its amazing physical flexibility, as well as its solvent-free makeup that means it will never shrink or crack. You can use it to fill even large joints, and rest safe in the knowledge that it will hold a tight seal that looks great even if the substrates shift or alter. It even resists changing temperatures, making it ideal for tasks like fireplace installation.
Does CT1 have any unique features?
Now we get to the real selling point: CT1 provides a completely waterproof seal. Not water-resistant, but water-proof!
You can use it on wet surfaces, over leaks, and even underwater in both fresh and saltwater environments. It is mold, UV and engine-fuel resistant, as well as environmentally friendly. These features make CT1 an excellent marine sealant and adhesive.
CT1 is also an amazing solution for quickly solving a whole range of repair maintenance issues without costly and time-consuming clean-up. Leaking gutters, baths, swimming pools, fish tanks and ponds can all be sealed in the blink of an eye! This product is a real problem-solver.
What products are available in the range?
CT1 is available in a range of colours: black, blue white, grey, silver, beige, oak, brown, and clear.
Unlike many other brands, the clear stuff actually cures clear rather than cloudy. Once again, this helps ensure that CT1 is flexible enough to provide perfect results in a huge range of applications.
Also available is C-Tec's Multi-Solve, a non-aggressive, multi-purpose solvent with a wide range of uses:
Remove sticker residue, chewing gum, and old silicone
Clean your tools of a range of substances, even bitumens
Apply before using sealants and adhesives to ensure a clean surface
This is a fast-acting, fast-drying product that is safe to use on virtually all materials, and it doesn't leave an oily residue behind.
Where can I get more information on CT1 products and applications?
For more information on the possible applications of CT1, visit the "applications" section of C-Tec's website. Here you'll find a great range of articles that will guide you through the product benefits relevant to each particular task. There is also a very informative video available, so make sure you check it out.
Once you have decided to add this product to your kit – and we know you will – visit our website to view the range and buy today!