The latest release from Festool marks a new standard in portable circular sawing, thanks to the innovative FSK guide rail system. This mobile tool is ideal for making quick, easy and precise plunge-cuts and cross-cuts in timber.

Around this time last year, Festool released the TSC55. This was their first cordless circular saw, and had been designed to provide a cordless alternative to the hugely popular TS55. This June, Festool will bring us another brand new cordless circular saw: the HKC55.
Festool refer to the HKC 55 as "not just a saw, but a mitre saw system". This shows that their goal was to provide you with an easy way to make quick and clean repeat angle cuts, using a highly portable tool. It is ideal for increasing your mobility when working with timber, and demonstrates "exactly what a modern saw can achieve on the roof".
The FSK guide rail system is the key, as it is very easy to set precise mitre angles to cut wherever the need occurs. Furthermore, the saw itself is smaller and more lightweight than the TSC55, which allows you to carry both saw and rail around in one hand. Despite this compact design the 18v battery and efficient brushless motor ensure that you still have enough power to make clean and fast cuts.
The Festool FSK guide rail system: the handy little miracle for repeat cross-cuts
When the HKC 55 is combined with the FSK guide rail you can achieve high levels of precision and exact angles, even for repeat cuts. These results would previously have required the use of a fixed saw, but are now achievable with this portable package.
The stop system is easy to use. Angles up to 60° left and right are marked along the rail, with a fixed stop at 0° on the opposite side. Simply slide the adjustable stop point to the correct angle marking, and the board will be at the correct angle relative to the saw when it is placed against both stops (see right for illustration). There are locks at common angles, to make angles even easier to set up and cut.
The saw can be attached to the rail in a single click: simply slide it onto the rail until the lever flicks out behind it to prevent it from sliding off backwards.
Once you have made your cut to the end of the rail you can make the saw retract back to the starting position that you set, thanks to an integrated rubber spring.
This new type of guide rail has the same durable construction as the existing FS range. It is available in three lengths: 250mm, 420mm, and 670mm. Overall, this system allows repeat cuts to be made with identical accuracy, in both directions. It makes the saw ideal for cutting roof battens for size and for serial angle cutting e.g. façade formwork.
Don't worry if this system isn't for you – the HKC55 is still compatible with all existing FS guide rails. This will allow you to perform larger tasks such as quickly and accurately cutting insulation boards to size. This saw also works very well without any guide rail at all.
The HKC 55: Fully-Festool Quality
The saw itself, ideal for both cross- and plunge-cutting, has all the markings of quality that you expect from a specialist like Festool.
As with the TS55 and TSC55, you can be certain of cutting precisely along the scribe mark, even with mitre angles of up to 50°. The hinged blade cover is easy to move when starting your cut, and features an integrated riving knife to prevent kickback. The blade itself is easy to change with one hand and without the use of tools, thanks to the FastFix interface.
Finally, the HKC55 falls under Festools "Service All-Inclusive" package, which offers a great range of features such as theft protection, 15-day money back guarantee, and a 10 year spare part availability promise. Don't forget to register all of your tools online!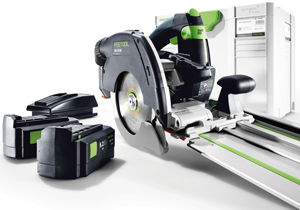 There will be three different Festool HKC 55 kits available. The saw will come packaged with:
1) Blade, accessory set and Systainer, but no batteries or charger (naked)
2) Two 5.2Ah Lithium-ion batteries, charger, blade, accessory set, Systainer, and FS1400/2 guide rail
3) Two 5.2Ah Lithium-ion batteries, charger, blade, accessory set, Systainer, and the new FSK420 cross-cutting guide rail
We think the last kit will be our favourite, but the naked option is great for people who have already bought into the Festool 18v system.
All that's left is for you to get thinking about which one you might want, and contact us to place your pre-order!