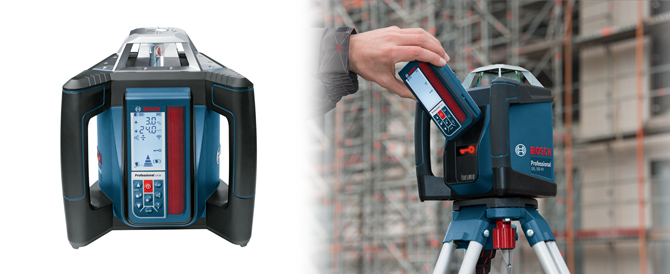 We are offering full product demos of the
Bosch Professional GRL 500 HV Rotation Laser
Either in-store at Kelvin Power Tools or on site anywhere in the UK!
We can arrange for a Bosch representative to give you an in-depth look at what the GRL 500 can do
and how it can make your levelling jobs a whole lot easier.
What is the Bosch GRL 500?
The Bosch Professional GRL 500 is a Line Laser Level designed for construction site use. It has a working range of 500m (in diameter) which is ideal for all outdoor levelling jobs. This is the first All-in-One solution with rotation laser, remote control and receiver as one integrated piece of kit.
This impressive integration helped it win the Red Dot award 2015 which recognises excellence in product design.
Key Features of the Bosch GRL 500 Laser
Theft protection – with visual and audio alarm at both the laser and receiver. Plus the rotation laser only functions via the remote so theft is pointless.
Slope function – Enter slope values directly and precisely in increments of 0.1%. Easy to use with the remote's keypad and visual display. Plus there's an automatic slope detection.
Robust design – The laser has a metal protective cage, 'IP56' dust and splash protection, and it's built to withstand drops from 1m
Calibration Reminder – The GRL 500 has time, temperature and shock detectors. So it knows when you may need to re-calibrate the laser level, e.g. when the tool has been switched off for prolonged periods, stored in the wrong temperature, or after a drop or fall.
Simultaneous and fast charging for both laser and remote – The remote is charged with the laser like so (see image). 20 minutes for 4 hours use, 1 hour for 60% charged and 3 hours for 100% charged.
Use Vertically – The GRL-500-HV version can be used for vertical levelling as well as horizontal.
Arrange a Demo now and try the GRL500H/HV for yourself
We can provide a full product demonstration of this professional laser level with our Bosch representative. If you're interested in learning more about the product and seeing it in action, get in touch with us. We can either demonstrate it at our Glasgow store or on location anywhere in the UK.
Reach us via sales@kelvinpowertools.com to and we'll be happy to set it all up for you!