No strangers to innovation, Metabo have announced the development of their new 4.0Ah batteries – the first in the world.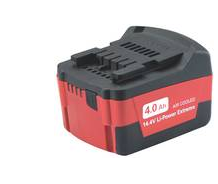 Several great things about these batteries. Firstly, they are backwards compatible. So as long as you have an 18v li-ion "slide-in battery" style cordless tool you only have to pay for the batteries themselves, and we all like to save a bit of cash!
Secondly, and more obviously, these batteries are both a time- and money-saver. They give 33% extra run-time, which of course gives increased mobility and freedom as well as less down-time messing around with batteries and chargers. On top of giving extra daily runtime, they also have a longer lifetime as they require less frequent charging. Lithium-ion cells can only cope with 1,000 to 1,500 charges before they need replacing, so if you can squeeze even an extra 10 minutes of work out of each charge, that's a significant saving.
And finally, they are of course available with Metabo's XXL 3 year warranty. We'll keep you posted with updates as and when we get them!