We recently brought you news of Bosch's new lasers, and now it's time to take a look at their new 18v range that was released this quarter. The tools in this range are a brand new drywall gun, an 18v version of the very popular GOP multi-cutter, and a new 4-piece kit that now comes with 4.0Ah Coolpack batteries. We also have a simply incredible deal on a 6-piece cordless kit, but just one kit, so if you want it you'd better get in fast!
*****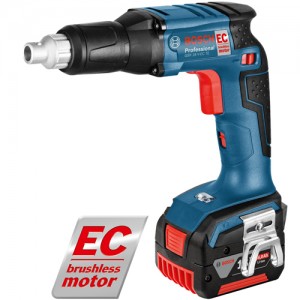 First up is the new GSR 18 V-EC TE drywall gun – the first of its kind from Bosch. The new brushless EC motor that not only delivers more power but also results in a longer lifetime than a DC motor of the same class. The body is designed to be compact and comfortable to use, and the separate MA55 attachment enables serial and overhead applications to be completed quickly and easily.
This tool is available with 4.0Ah Li-ion batteries for amazing runtime, or with 2.0Ah Li-ion batteries for lighter weight and higher comfort. Both of these batteries are the new Coolpack models, ensuring superior cooling and therefore a longer overall lifetime.
*****
Next is the L-Boxx 4 Kit; a great way to start a basic Bosch cordless kit that you can build on with additional naked tools if you so desire. It contains the GSB 18 V-Li combi drill, GDR 18 Li impact driver, GST 18 V-Li jigsaw, GLI VariLED mini worklight, 3 x 4.0Ah Coolpack batteries, charger, and 2 x L-Boxxes.
*****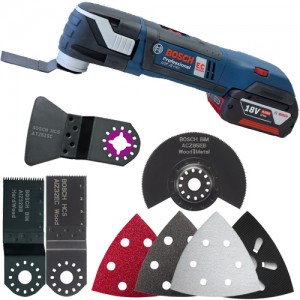 The GOP multi-cutter already exists in mains-powered and 10.8v versions, and now Bosch have added an 18v model to the range. This machine has a brushless EC motor up to 30% longer runtime and a longer lifetime, the quick and easy SDS accessory changing system, and a slim design for comfortable working even in tight spaces.
The GOP 18 V-EC is packaged with a range of quality accessories shown in the image to the right. It is also available in several different versions: naked, naked in an L-Boxx (Click & Go), with a single 4.0Ah battery, and the full kit with 2 x 4.0Ah batteries.
*****
Finally we have the special L-Boxx 6 Kit deal. This is a great way to start building a Bosch cordless kit that is suitable for a huge range of applications. Also included are 3 3.0Ah Li-ion Coolpack batteries, a charger, and 3 L-Boxxes, allowing you to get started right away! The following tools are included in this package:
GSB 18 V-Li combi drill
GDR 18 Li impact driver
GST 18 V-Li jigsaw
GWS 18 V-Li 125mm mini grinder
GKS 18 V-Li 165mm circular saw
GLI VariLED mini worklight
And you get all this for the great price of £599 +VAT. Remember, we only have one single kit available at this price, so you'd better get in quick before it's gone!
EDIT 30/10/2013: Too late – the 6 Kit is gone!