Bosch have launched two more intelligent measuring tools to complement their range, and they are both useful and cost-effective implements that are easy to use.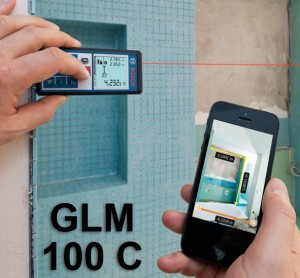 The GLM 100 C laser range finder and inclinometer is a great little tool that communicates with computers, smartphones and tablets through Bluetooth and/or MicroUSB. You can even take measurements and put them directly into a picture on your machine!
It is robust and durable thanks to the IP54 dust and splash protection, as well as the fact that in drop tests this implement could be dropped from 1m without taking damage.
The large and easy to read display combined with the flexible operation and large memory makes this an excellent tool that provides great value for money.
*****
The GLL 3-50 cross-line laser is a versatile implement that is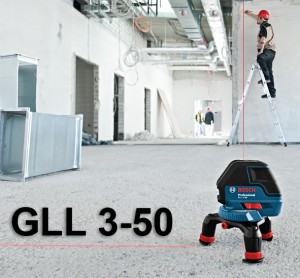 ideal for horizontal and vertical measuring, squaring, and – thanks to the mini tripod that is included as standard – use as a plumb line laser. The tripod lifts the tool high enough off the surface to see the plumb line, and has telescopic legs to allow use on uneven surfaces.
It is really simple to use, with a clear LED display to show the remaining battery life and a simple keypad that allows you to select which lines you wish to display.
You can buy the GLL3-50 and tripod with an L-Boxx inlay ready to merge with your own kit.