More of what you want, less of what you don't!
Up to 35% more power
Up to 70% less vibration
Up to 50% less operating noise
The New Fein MultiMaster 350Q has arrived and it's very impressive. Its predecessor was a very popular multi tool and was widely viewed as one of the best on the market. Fans of that FMM 250 Q will know how effective and fast at completing small cutting and sanding tasks it was. Well now the new Fein MultiMaster 350Q has surpassed that high level of performance.
What's so good about the Fein MultiMaster 350Q?
Boasting up to 35% more power, this multi cutter is even quicker at finishing the vast array of tasks it can do. It has reduced the vibration levels by up to 70% which makes it steadier, giving you better precision. Plus it's quieter, and noticeably so. Fein say they've managed to half the sound pressure from the multi tool.
How has Fein managed to improve their MultiMaster?
The FMM 350 Q Multi Cutter has a 350W motor plus a higher copper content to maximize its output. This also helps keep it performing at its best when you really start to put it through its paces.
It has flexible damping elements which completely disconnect the outer body from the motor inside. This is what minimizes the vibration levels and strain on the outer shell even after long periods of use. It leaves the multi cutter with a vibration class of 0 for most applications, which is less than 2.5m/sec.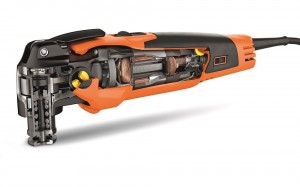 The Tacho generator it has makes sure it can maintain its speed under load. Plus it has electronic speed control so you can adjust it to suit the type of job you're doing. All its gearbox parts are made of metal which prolongs the service life of the oscillating tool. It has 2 x 1.7° amplitudes for high sanding capacity and cutting performance.
It works fast with its QuickIN tool change
The Fein patented, QuickIN clamping system is one of the best features on this multi tool. It lets you change the tool bit you're using without needing a wrench. You flip the lever on the top, slide out the clamping bit and replace whatever tool bit you need. It's just so convenient and let's you get on with the work. It adds to its appeal for people who need an oscillating tool that can function very quickly.
A highly versatile multi tool
As you would expect the Fein MultiMaster 350Q is suitable for dozens of applications. Sanding, cutting, polishing on materials like wood, metal and plastic. It comes in a kit with a case and plenty of Fein accessories like sanding plate, sanding sheets, scraper and various saw blades. You can find out exactly what accessories come with the FMM 350Q along with a full specification of the product on our website. And if you decide this tool is too good to pass up, it is available to buy from us now too.