It's been a while since the last new development from Festool, which was the unique Conturo edge bander. Now Festool are back again with two brand new tools, and one upgraded version of a tool that should be pretty familiar to all fans of Festool cordless.
So what are the basic Details of these new Festool tools?
The ETS EC 150 eccentric sander. This is a brushless random orbit sander that is available with 2 different orbit sizes. The choice of 3mm and 5mm orbit allows you to choose the sander that best suits your most common applications.
The KAL II Syslite work light. This task light uses 12 LED lights with two settings: intense and dimmed. It also features a larger battery, for longer runtime.
The Vecturo OS 400 multifunction tool. This multi-tool has been developed to give you the most accurate results possible, and comes with a variety of accessories to help you achieve ultimate precision.
Sounds interesting! Tell Me More…
Okay, if you insist! Now that you know the basics, let's get on with the real detail.
The Festool ETS EC 150: Compact, yet Powerful and Durable
The ETS-EC 150 is a brushless random orbital sander that is available with two orbit sizes: 3mm and 5mm. The 3mm leaves a very fine finish, and the 5mm orbit provides you with both high surface quality and high levels of stock removal.
The EC-TEC brushless motor has already been used in other Festool tools like the BHC 18 SDS-Plus rotary hammer, but is still relatively new to the market. There are several key points to make about this motor:
The parts of a brushed motor that wear down quickest are the brushes.
When you remove the brushes, you remove the primary cause of wear. This makes the motor much more durable, and extends its service life.
The EC-TEC motor provides you with higher power output for comparatively lower energy consumption than a brushed motor. In other words: it's much more efficient.
If the tool reaches a critical state, it limits the energy flow even further to protect the electronics. I think it's obvious why a more durable tool is something everyone would like!
Intelligent Drive Control uses sensors to ensure the efficient, true running of the motor, as well as accurate speed adjustments. Basically, this system ensures a higher standard of motor.
Other great features of the ETC EC 150 random orbit sander include:
Sanding pad break with carbide tip: prevents the pad from rotating too quickly before being applied to the surface. This protects you from kickback when you apply the tool to the material, and also prevents the initial contact from producing grooves in the material.
Extraction detection system: the machine can only be started up when a dust extractor hose is connected. This is an optional setting which can help ensure that you work cleanly and safely.
Vibration control system: actively regulates the motor speed and automatically reduces the operating life when vibrations are too high. This means smoother and safer operation that is easier on both you and your tool.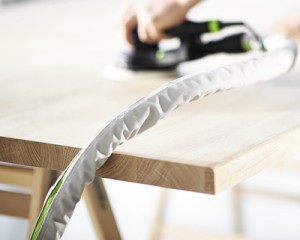 This eccentric sander is available in a Systainer case or a simple cardboard box, and comes packaged with an anti-static dust extraction hose that includes a handy cover.
The hose cover is smooth and robust to protect surfaces and edges from damage, as well as to ensure that the hose doesn't catch. It features an integrated Plug-It cable to allow quick and easy attachment to the tool, and a rotating adaptor and connector. We definitely recommend it!
The Festool KAL II Syslite: More Flexibility, Longer Runtime
This new Syslite shares many features with the original KAL version. It has the same wide scattering angle of 170°, the same shatterproof house, and the same dimensions of 50 x 100 x 150 mm. It still features a 7.2v internal battery, and is still compatible with external 12v to 18v Festool Lithium-ion batteries.
One of the differences is the lighting itself. Instead of six 3w LEDs the new KAL II has twelve 1.5w LEDs, and has two brightness settings: intense and dimmed.
Another difference is the battery capacity. The original KAL featured a 2.2Ah battery, which provided you with up to 240 minutes of operating time. The KAL II features a 2.9Ah battery, which provides you with up to 290 minutes of operating time.
The final new feature is the MA KAL spherical head, which is package with the KAL II. It features a permanently integrated magnet that you can use to mount the Syslite on magnetic surfaces. It also features additional openings for screw clamps, which allow you to attach the KAL II to non-magnetic surfaces too.

The rubber foot ensures that no scuff-marks are left on delicate or coated surfaces, and the rotatable head means that you can shine the light wherever it's needed.
Overall, this is a very flexible and versatile light that will be of real use to hardworking tradespeople in the dark winter months that seem to come along all too quickly!
The Festool Vecturo: Powerful and Accurate
There are two main features that set this multi-tool apart from the competition.
The first is the 400 watt motor that features electronic speed control, which provides you with fast and controlled work progress. Most multi-cutters from other manufacturers have motors around the 300 watt mark, which means that this Festool model is an excellent choice if you're after maximum power.
The second feature is really the main difference between this tool and its competitors. The larger of the two available kits includes a range of blades, as you would expect, but also includes:
A depth stop. This attachment allows you to quickly and easily make plunge cuts with a precise depth. It is very easy to adjust, and does not require the use of tools.
A unique positioning aid. This attachment helps to ensure you saw precisely along the scribe line, which makes it ideal for making scuff-free cut-outs in delicate materials. It is fitted quickly and easily without the use of tools, thanks to the FastFix connection. Both the positioning aid and the blade can be tilted 90° either way in 30° increments, which makes this bit of kit very flexible and easy to use.
The Vecturo oscillating tool also has all of the other features that you would expect in a multi-cutter. The tool-free blade changes are performed using a simple lever, similar to Fein "Quick" models. The body is slim and ergonomically designed to fit comfortably and securely in the palm of your hand. The rubber coating helps to dampen vibrations, which is important for anyone who will be using this tool frequently or for long periods.
In terms of accessories, Festool have all of the usual suspects like plunge blades for wood, plastics and metal, segment blades, circular saw blades, and scrapers. They also have a specialist blade that has been designed for tasks such as cutting putty from insulating window panes. We expect to see more blades like this in future that we know will be very useful to Festool customers.
Finally, the Vecturo oscillator kit is packaged in a Systainer. This provides you with full compatibility with the rest of your Festool system, which is definitely important when carting your kit around and between sites!
So how can I get my hands on these great new products?
Visit our shop, either online or in Glasgow!
We have the Vecturo OS400 Plus and the OS400 Set, as well as the KAL II Syslite indivually packaged and packaged with the magnetic head available.
We believe that the ETS EC 150 is best when purchased with the covered hose, and so we have the following options available:
Of course if you require any of the other versions then please do not hesitate to contact us. We're always open to suggestions!
Are you impressed by the new Festool Vecturo? Or the ETS EC150 Sander? Feel free to comment, we would love to know what your thoughts are on these new products.