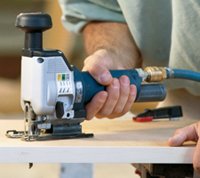 Bosch Air Tools
We provide a wide variety of pneumatic tools from professional trade manufacturers Bosch and Metabo. This selection of powerful and durable equipment is powered by compressed air which is provided by a compressor. This makes air tools ideal for use in wet conditions or places where electrical power is not available, most commonly when conducting automotive and industrial tasks.
Our range of air tools includes impact wrenches, drills, grinders, jigsaws, foam rubber cutters and scalers. We also stock air compressors in a variety of capacities and sizes, and all of which have been designed for use with professional air-powered tools.
Want to Learn More About Pneumatic Tools?
Air tools differ greatly from electrical tools, therefore it is important that you purchase the best machine for your needs. At Kelvin Power Tools, our expert staff are available to help you make the right decision. Please feel free to contact us here and a member of our team will be more than happy to help.