What is a multi-tool?
Multi-tools, or multi-cutters, are capable of performing a wide range of functions that other tools are often unable to conduct. They use an attachment, like a blade or sanding pad, to cut, saw, sand, grind, polish and scrape material.
These oscillating tools have a head which moves rapidly from side to side by a small fraction, which causes the attachment to perform tiny motions (see the illustration on the right for an example).
These machines have fine cutting capabilities, which makes them ideal for completing more delicate woodworking tasks that larger machines can't perform. Their tiny body combined with an offset blade also enables effortless flush-cutting, which is useful for applications like fitting flooring along skirting boards, cutting complex recesses for plug sockets and cutting tiny slivers of material.
What are the benefits of a multi-tool?
The main advantage of multi-tools is the vast range of tasks which they can conduct, from sanding and sawing small sections of awkwardly-placed wood, to quickly and easily removing grouting from tiles. There is also a huge variety of compatible accessories for these machines, including sanding and scraping accessories, and blades for sawing and plunge-cutting.
Multi-tools are compact, lightweight, and have a very comfortable grip diameter; which greatly improves user comfort, even when using for long periods of time. Their small size also allows better access when working in confined and/or awkward spaces, e.g. when sanding with a triangular pad, the tool is able to fit right into tight corners to ensure a perfect finish.
How do i choose which machine i need?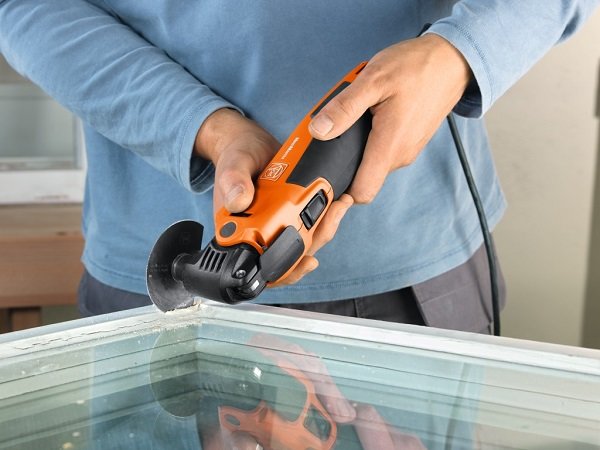 Accessory set: Some models are packaged with a huge range of accessories and others come with a basic starter kit. It is important that you know what you are getting and that it is enough to complete your intended tasks.
Motor wattage: This will affect how hard you can work the tool and how quickly it will complete the job.
Size: The smaller and lighter the machine, the easier and more comfortable it is to handle.
Blade changing system: This impacts the tool's ease-of-use, as well as your overall working efficiency.
Multi-Tool Accessories
We stock a wide range of multi-tool blades and multi-tool sanding accessories.
Contact Us
At Kelvin Power Tools, our experts are always happy to help! If you have any questions or need some advice, then please don't hesitate to contact us.