We promise to give your Paslode nail gun a complete and professional service and repair. We've fixed 1000's of broken Paslodes over the years from all over the UK. Whether it's misfiring or just needs a regular servicing, we'll have your Paslode fixed fast and back to you in no time!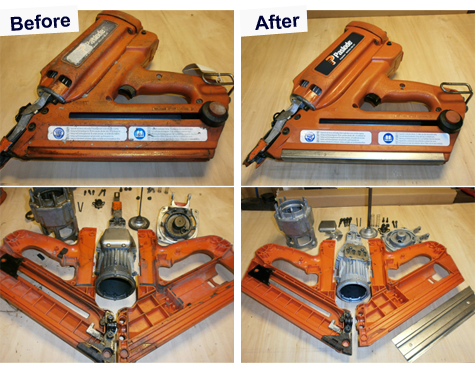 It's so easy! Drop your Paslode off at a local store (2,500 UK shops like Halfords, Matalan, your local newsagents or pharmacy) and we'll collect it for FREE!

Recommended by Our Customers
Read over 250+ testimonials from customers all over the UK. From the North of Scotland to the South West of England, we have happy customers who love how fast and easy the collection service is and that we kept them informed throughout the process.



Super Fast Service
We'll have your Paslode expertly serviced, cleaned, tested and repaired as necessary, then returned to you working like new again! Our turnaround is at its fastest right now at around 1-3 working days from when it reaches our Approved Centre here at Kelvin Power Tools.
Paslode Service Cost
See our full price list below.
Tips on How to Parcel
Important for safe postage. You'll need a cardboard box and remove all gas.
Click for more information:
Collection
FREE
Paslode Pickup & Return
Drop your Paslode off at your local shop:
Halfords | Matalan | Currys/PC World | some Sainsbury's | Pharmacies | Newsagents | Londis | Keystore
Benefits: you can drop-off at your convenience. Most drop points are open late or at weekends which makes it even easier!
Book a collection via our Request Form
We'll send you a courier label
Parcel your Paslode in a cardboard box. Here's how to parcel.
Drop it off at any DPD drop point near you
We'll receive it the next working day (extra day for highlands/offshore pickups) and keep you informed of how things are going
OR
We can also collect from your doorstep (any UK address) at a cost of £10 +VAT.

Find your nearest drop off.
Over 2,500 shops UK-wide!
Paslode Service Price
These prices are for the standard service only.
If your tool needs additional repairs, we'll quote you before we go ahead with any work.
What does the service include?


Complete strip down of the tool

Professional cleaning with a high temperature power washer and degreaser

All electrical parts hand-cleaned

New genuine spare parts fitted (as Paslode recommend)

Thorough testing for any necessary repairs (we'll quote you)

All handled by our Paslode-approved fitters
Framing Nailers
IM350: £72 +VAT
IM350+: £59 +VAT
IM360Ci: £83 +VAT
IM360Ci (fixed filter version): £109.50 +VAT
IM90/IM90i: £93 +VAT
Finish Nailers
IM65/65A/50 Lithium: £64 +VAT
IM65/65A/50 NiCad: £69 +VAT
IM200 18ga: £65 +VAT
IM250A: £69 +VAT
IM250: all variants no longer serviceable
Other Nailers
PPN35Ci: £79.50 +VAT
IM200 stapler: £80 +VAT
Spit Pulsa P800: £89 +VAT
DeWalt, Hitachi, Makita, Bostitch: see our
Nail Gun Repair Service
Insurance
When sending 2 or more tools at once: £7 each way (due to the high value of your tools)
Note: Prices may fluctuate a little with the cost of official Paslode spares. Additional parts are sometimes required for your standard service which may slightly increase the labour charge that is applied. In the unlikely event that you decide not to proceed, there may be a charge to cover the time taken to prepare the quote and re-assemble and return your tool. Feel free to ask us for details.
---