Paslode Service & Repairs Centre UK
COVID-19 Update - WE ARE OPEN
Delays with turnaround possible due to problems with supply of spare parts from Paslode. We are unable to service any old Nicad Paslodes at this time due to this. Please feel free to ask for more info via the enquiry option below.
At Kelvin Power Tools, we promise to give your Paslode nail gun a complete and professional service and repair. We've fixed thousands of broken Paslodes over the years from all over the UK. Whether it's misfiring or just needs a regular servicing, we'll have your Paslode fixed fast at our approved centre and back to you in days!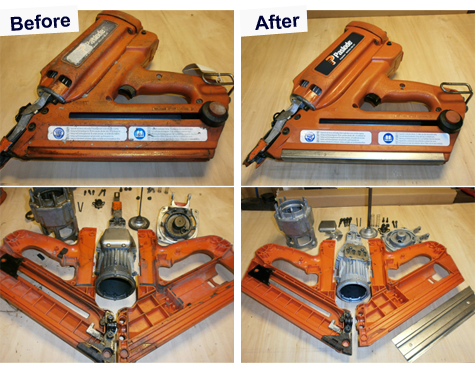 The UK's No.1 Paslode Collect & Repair Service



We'll Collect Your Paslode for

FREE

(UK)

It's so easy! Drop your Paslode off at a local drop point (2,500 UK shops like Halfords, Matalan, your local newsagents or pharmacy) and we'll collect it
>> Find your nearest drop point



100% Approved by Paslode
Nothing but genuine parts are used by our Paslode experts.

Recommended by Our Customers
Read over 250+ testimonials from recent customers all over the UK. From the North of Scotland to the South West of England, we have happy customers who love how fast and easy the collection service is and that we kept them informed throughout the process.



Fast Service
Our turnaround is faster than most at around 3-5 working days from when it reaches our approved centre here at Kelvin Power Tools. We'll have your Paslode expertly tested, cleaned, serviced and repaired as necessary, then returned to you working like new again!


Prices
What's included in the price?
How does it work?
Click here to Enquire/Ask a Question
Click here to Book Your FREE Collection