What brands of cordless batteries for power tools do you stock?
We have a great range from all of the top brands. We only sell GENUINE brand-name batteries - you won't find any cheap copies that wear out in a 10th of the time here!
Our range of Bosch batteries includes 18v, 14.4v and 10.8v with capacities between 1.5Ah and 5.0Ah. You can also buy battery and charger kits that are great for adding to a number of naked tools to make your own custom kit.
We have the entire range of Panasonic batteries in stock: 28.8v, 18v, 14.4v, 10.8v and even 3.6v with capacities from 1.5Ah to 4.2Ah.
Our range of Makita batteries also includes 18v, 14.4v and 10.8v batteries, and capacities between 1.3Ah and 3.0Ah.
Our range of DeWalt batteries contains an 18v 4.0Ah battery that is compatible with their entire 18v Li-ion range, and a heavy-duty 36v 2.2Ah battery.
Although Paslode make gas nailers, they still need batteries to function. We have both types of Paslode batteries available!
What do I need to know when buying replacement power tool batteries?
1. Compatible battery types. The brand of tool is obviously important, as DeWalt 18v batteries won't fit Bosch machines! However it is also important to ensure that individual batteries within a brand are compatible with your tool. This means the same battery chemistry (Li-ion/NiCad/NiMH) as well as the same connector.
2. The voltage of your machine. This is the figure that tells you how powerful the machine is. A tool that uses Bosch 10.8v batteries will be lightweight and compact, whereas a tool that uses 36v batteries will be very powerful
3. Your required battery capacity. This is measured in amp-hours (Ah), and refers to the runtime of the battery i.e. how many tasks you can complete on one charge. A 1.5Ah battery will be compact and very lightweight, but will have a short runtime. A 5.2Ah battery will provide excellent runtime but be more bulky and weighty.
What are the advantages of Lithium-ion power tool batteries?
The main advantage is the better power-to-weight ratio. Old Makita 18v batteries used to be limited to lower capacities like 2.6Ah purely because any more would make the tool far too heavy to be practical, but with the new technology many brands including Makita are reaching and even exceeding 5.0Ah!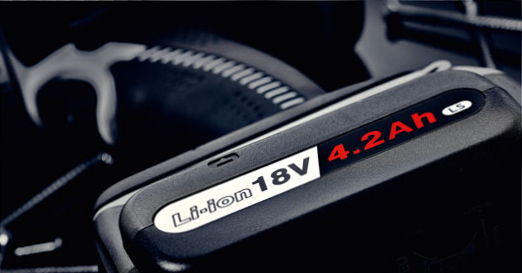 Other advantages include:
No memory effect: you do not need to completely discharge the battery before recharging it
Low self-discharge: the battery retains its charge for longer when not in use
Able to withstand lower temperatures: more flexible storage and working
Need more information or help? Please

get in touch

!