Demo
Dates
Current Demo Day Diary Dates
Signup for demo click here
| | | | | | |
| --- | --- | --- | --- | --- | --- |
| Thursday | 30th | May | 2013 | Festool Demo Day | 09:00am - 17:00pm |
| Thursday | 30th | May | 2013 | Metabo Demo Day | 09:00am - 17:00pm |
| Thursday | 30th | May | 2013 | Paslode Training Afternoon | 13:00pm - 16:00pm |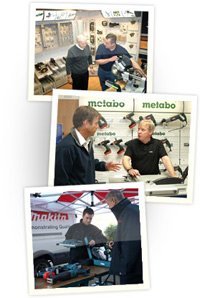 See The Latest Products - Get FREE Training
While these days will focus on showcasing the latest product launches, the manufacturer's representatives will be available to carry out other demonstrations as well as provide information and technical assistance in all aspects of using their tools and equipment.
Try Before You Buy
Why not let us know in advance what tool you might like to see demonstrated and we will endeavour to make sure the particular product you are interested in is definitely available for trial/demonstration on the day. Simply email your request and contact details to sales@kelvinpowertools.com and let us take care of the rest.
FREE Paslode Training!
On the date(s) scheduled above Alex Love of ITW will be available to provide free training and certification in the safe use of Paslode nail guns. Again, registering with Kelvin Power Tools in advance is strongly recommended if you wish to take advantage of this superb offer.