Should I consider buying a tool from Festool Power Tools UK?
Experienced craftsmen across the UK use this brand when working with wood because it provides a complete solution. With extensive use of integrated dust extraction and the systainer storage system, you will buy into a genuine system solution that provides efficiency and convenience.
You can expect the highest standard of precision and accuracy when using tools such as the TS55 plunge saw, especially when these great machines are teamed up with genuine Festool accessories. The constant expansion of the range of cordless power tools offers even more choice and flexibility. Saws, sanders, planers and all other tools give the best possible finish for most general woodworking applications.
How broad is the range from Festool Tools UK?
There are many different tools available from this top brand, all manufactured to an extremely high standard.
If you are looking for a circular saw then you cannot go wrong with the class-leading TS 55. This machine is packaged with a guide rail to ensure that it is as accurate and easy to control as possible.
The Domino is a substantial refinement on the biscuit jointer, and will be of particular interest if you are a cabinet maker. Instead of biscuits this machine uses "dominos", which are completely rotation-proof and offer improved precision and stability.
The woodworking tools from this brand are some of the best on the market. Available both mains-powered and cordless, these tools will provide you with excellent results in all woodworking applications. There are a variety of different router models with different levels of power available, as well as different sander models for a variety of applications.
If you are looking to achieve the perfect finish with a random orbit sander then the Rotex 150 is what you need. This great tool is powerful enough for rapid stock removal, but also leaves a high quality finish.
There is a comprehensive selection of abrasives available, including specific types for most materials ranging from wood to the various types of solid surface. When you combine this with a Festool dust extractor you will have a system solution truly capable of delivering the highest quality of finish in a dust free environment.
All of the tools from this brand are packed with innovative features to give you the cutting capacity, accuracy, and finish required particularly if you are a kitchen fitter or furniture maker..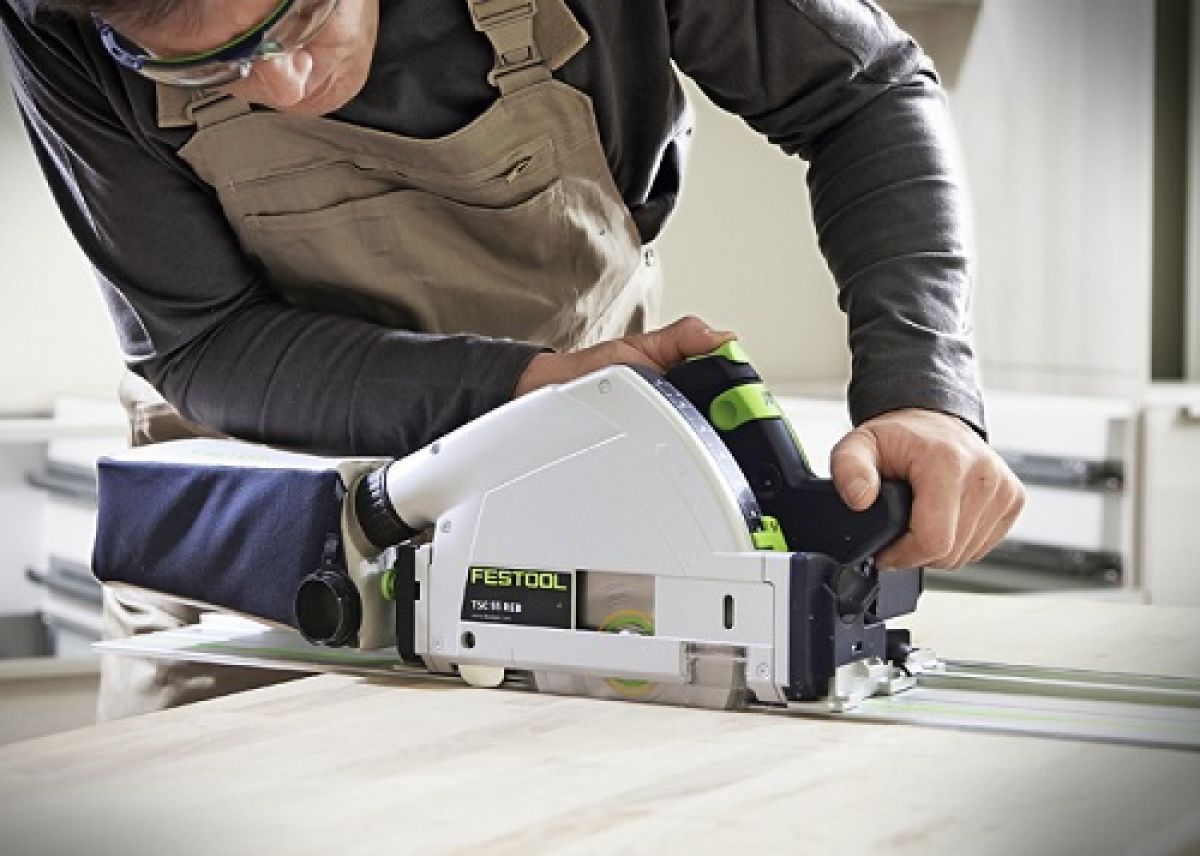 What Festool Cordless Tools are available?
This range is constantly expanding, giving a cordless option for a growing number of tools that have proven corded counterparts. The cordless range now includes a screw gun that can be used with collated or loose screws, as well as a variety of impact drivers. You can also get a wide variety of drills (including a SDS-plus drill) and jigsaws, and even a cordless version of the TS55 plunge saw.
All of these tools use the latest Lithium-ion battery technology, now with an even higher battery capacity than ever before. This means that you get a better power-to-weight ratio, and batteries that last much longer than older NiMH and NiCd varieties.
Why should I use Festool accessories with the tools?
A vital part of the system on offer from this brand is an excellent range of top quality accessories. Official saw blades, jigsaw blades and sanding discs are designed to further enhance the performance of all power tools from this brand, and give you the best results possible from the system concept.
About Us
At Kelvin Power Tools we have staff with excellent technical knowledge, a great range of tools and accessories, and excellent aftercare support thanks to our service and repair centre. Whether you buy online or direct from our Glasgow tool shop, you can always be sure of an excellent customer experience.