What is a Heat Gun?
Heat guns, otherwise known as hot air guns, are hand held tools that emits a stream of hot air usually between 100 and 700 degrees Celsius. They are generally operated by a trigger and work like a hair dryer (which is essentially a low temperature heat gun).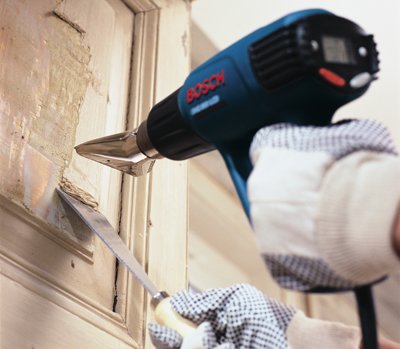 These are very useful tools for a variety of tasks. You can use it for paint stripping as the heat makes the paint blister making it easier to scrape. A hot air gun can also be used to shrink heat-shrink tubing/film/packaging, dry out damp wood, bend and weld plastic, soften adhesives, and thawing anything that is frozen.
what's in our heat gun range?
Kelvin Power Tools have a variety of hot air guns on sale from the top brands in the industry like Bosch and Metabo. Each model has different temperature settings. Some have specific temperatures at which they function. Others have variable temperature settings so you can adjust the hot air gun based on the task.
need more advice on heat guns?
To learn more on heat guns, please feel free to contact us. Our expert staff members are on hand to answer any questions and give you any guidance you may need.