Why Shop with Kelvin Power Tools?
We're an Authorised Dealer and Service Centre

If you're near Glasgow, Scotland it's good to have a Local Supplier!
We are an Authorised Dealer for all Honda power equipment - one of only three in Scotland. This means that we have been certified by the company to supply their products, as we meet the high standards which the brand sets in sales, service and expertise. When you purchase a product from us, you can guarantee that we will meet the following criteria: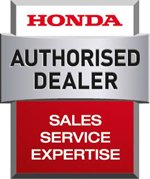 Sales: Our store offers a great selection of machines for you to view and touch in person. We also have an abundance of information available regarding the different features and benefits of each item that we stock.
Service: We perform a full pre-delivery inspection on each machine that we supply, to ensure that you never receive a sub-standard product. We also use nothing but genuine parts when servicing or repairing your model.
Expertise: Our expert staff members possess years of experience and a wealth of knowledge, and will always go the extra mile to ensure that you purchase a machine which fulfils your needs perfectly.
Browse our online shop, visit us in-store, or contact us here to get your hands on one of these great machines today!
Choose Honda Generators for the Best Performance
The GX engines contained inside these power generators are top-of-the-range. In fact, they're so good that even competing manufacturers use them in their generators! However, if you want unbeatable quality in every aspect, then you shouldn't settle for anything less than the complete package, and that is exactly what Honda provides.
Whatever the task, the company has a model with the technology to suit. There are rough and rugged machines at great prices for tradesmen working in tough site conditions, as well as high-tech AVR and inverter generators for power-sensitive applications. Anyone working in a noise-sensitive environment will appreciate the super-silent models, and people on the move will love the compact and portable designs. We also supply the brand's range of dual-fuel LPG generators, which provide a whole host of benefits as detailed here.
Honda Energy - History
Honda's Power Equipment division began production in 1953 with the creation of the H-Type engine.
Anticipating future demand for a compact and portable generator, the company developed their E40 model. Unfortunately, the timing was not right and mass-production did not make economical sense, so the machine never made it to market.
The brand later built upon this initial idea and used the expertise which they had developed to create the E300 (pictured right). It was the ideal concept: 300w output, quiet, easy to use, and contained within a compact and lightweight enclosure.
The E300 was released in 1965 and became the first of many portable generators to achieve great success. The design elements which contributed towards the success of this model have formed the basis of every machine that Honda has made since.