What is an impact driver?
An impact driver can be used for screw driving because it has a ¼" hex tool holder, suitable for screwdriver bits. When you need to start working faster or fatigue is setting in as you work, a cordless impact driver can be an ideal replacement for a screwdriver.
Impact drivers are designed for tightening or loosening tough screws as they use a strong, pulsing rotary motion to provide rapid bursts of high torque. This means less screw stripping, easier loosening of corrosively frozen or over-torqued screws, and screws can be tightened with torque greater than a screwdriver can provide.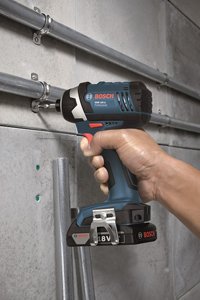 What should you consider when choosing a model from our range?
Voltage and battery capacity: How much will you be using the cordless drill, and how much power will be required? A smaller battery with a lower voltage will suffice for smaller jobs, but you'll need something bigger for more heavy-duty use.
Power levels: consider the range of tasks you will be performing and how much power they will require
Size: will you be working in tight spaces, or is power and performance much more important?
Additional features: some tools have special features such a flexible head that can be changed to a square drive, or dual 14.4v/18v operation.
Ask us if you need help
Our expert staff is here to answer any queries you have about a cordless impact driver or any other power tool or accessory. So to learn more, feel free to contact our Glasgow showroom.