Panasonic EY74A2 DualV Drill Driver (18v 5Ah)
The Panasonic EY74A2 LJ2G31 cordless drill driver is dual voltage, which means that you can use it with either 14.4v or 18v batteries.
Supplied With

2x 18v 5.0Ah Lithium-ion batteries

Charger

Carry case

Extended 3 year warranty
(registration required)
1 year as standard



Best Features Of The Panasonic EY74A2 LJ2G31 Drill Driver
Dual voltage: use 14.4v or 18v Panasonic Li-ion batteries

NEW DESIGN

brushless motor: increased efficiency, power, runtime and lifetime - 2x longer than a brushed motor!
Ultra compact: this Panasonic 14.4v drill driver has a 178mm body for excellent handling and control, especially in confined spaces

NEW

ultra-hard chuck jaw tips give extra 'bite strength' and significantly reduce wear
NEW 'speed control function' allows you to customise the speed to the application
Electronic speed control: the rotation speed starts gradually for very slow and smooth starts, giving you ultimate control
Electric brake for increased precision when driving rows of screws

NEW

hybrid switch eliminates heavy friction to internal parts when using the electric brake for smoother operation and a 2x longer life expectancy of the part
Tough IP (intelligent power tool): the tool and battery have high levels of dust and water protection, and the battery is also protected against overheating, overload and over-discharge
Improved ergonomics with

NEW

comfort grip: this Panasonic 18v drill driver is comfortable to use, especially when working for extended periods of time
LED light for a clear view of the work area
Handy belt hook allows you to keep this Panasonic cordless drill driver within reach at all times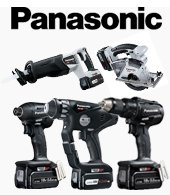 More DEALS!
See our complete
range of cordless
Panasonic Tools
Technical Spec.
Voltage: 14.4v / 18v
Speed at no load (low): 20 - 480 rpm
Speed at no load (high): 70 - 1,580 rpm
Max. torque (stalling/instant): 32/50 Nm
Clutch torque: 0.5 - 4.4 Nm
Clutch stages: 18 + drill position
Max. drilling diameter in wood: 38mm
Max. drilling diameter in metal: 13mm
Max. holesaw size in metal: 33mm
Dimensions (W x L x B): 68 x 178 x 250mm
Weight (incl. battery): 2.05kg
Battery Capacity Screwdriving
Wood screws in yellow pine Ø 4.1 x 25mm: 1,450pcs
Wood screws in yellow pine Ø 8 x 80mm: 390pcs
Self-drilling screws in SPC Ø 4 x 13mm t = 1.6mm: 1,200pcs
Battery Capacity Drilling
Holes in 12.5mm plasterboard: 90pcs
Holes in 12mm plywood: 90pcs
Holes in SPC Ø 21mm t = 1.6mm: 45pcs
Holes in SPC/ hole saw Ø 25mm t = 1.6mm: 85pcs
Holes in yellow pine Ø 30 x 40mm: 250pcs