Why should I choose a Paslode Nail Gun?
The Paslode nail gun has now virtually replaced the hammer for all but the most basic nailing jobs on a construction site. They simply allow you to complete your jobs far quicker and with much greater ease! The range of Paslode nailguns is now well proven to both improve performance and save you money.
Paslode offer a number of different types and models. The popular Paslode framing nailer and Paslode finishing gun that have served many a joiner well over the years are not the only tools that you'll find in this range – we also supply less commonly used tools such as the Paslode stapler and positive placement nailer. No matter what tool it is that you choose, you can be sure that it will perform to the highest standard.
Our range doesn't just include tools! You can also buy a great range of different sized Paslode nails for different applications, both indoor and outdoor, as well as additional accessories.
Looking For A Paslode Finish Nailer?
The Paslode IM65 brad nailer fires brad nails up to 65mm, and is available in both a straight and angled version for situations where you may need to access tight corners. These tools now feature lithium-ion batteries which give you a better power-to-weight ratio and a longer overall lifetime.
These Paslode brad nailer models are made for all 2nd fix applications where you need the best quality of finish for facings and similar applications.
Looking For A Paslode Framing Nailer?
One of the most popular Paslode nailgun models is the tried-and-tested Paslode IM350 Plus - the upgraded version of the IM350 - which is capable of firing nails up to 90mm in length continuously into timber. For most professionals who are looking to build timber frames quickly for house building and most other construction applications, this Paslode framing nail gun will be the tool of choice.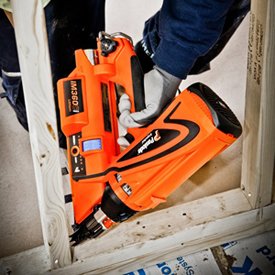 There is however a new Paslode first fix nail gun on the market, with a whole host of new technologically-advanced features. The IM360Ci Paslode frame nailer is as high-tech as they come, and will add a new layer of efficiency and usability to your nailing tasks.
What Other models of Paslode Gas Nail Gun Might Be Useful?
The Paslode positive placement nailer is judged to be three times faster than an ordinary hammer, saving you valuable time when fixing joist hangers, truss clips, connector plates and straps.
If you lay sub floors then the Paslode stapler will fire quickly fire divergent staples into thin plywood, providing a stable and even surface on which to lay tiles and flooring
What Paslode Accessories are available?
There is a full range of Paslode nails/staples and accessories available for all Paslode nailers.
Paslode brad nails are available both angled and straight, in sizes from 19mm to 65mm. Types available include stainless steel and fine finish.
Nails and staples for other tools are generally available in small packages or as larger nail and fuel combination packages. A variety of coatings are available that are appropriate for environments from indoor (not heated)/outdoor protected to outdoor (exposed to weather).
Can I get my Paslode nail gun Serviced or Repaired?
We have an on-site Service and Repair Centre that has been fully approved by Paslode UK, and can carry out all work on all machines, from the Paslode framing nailers to the Paslode brad gun. You can either drop your gun off in-store or send it to us via courier using our simple online repair service.