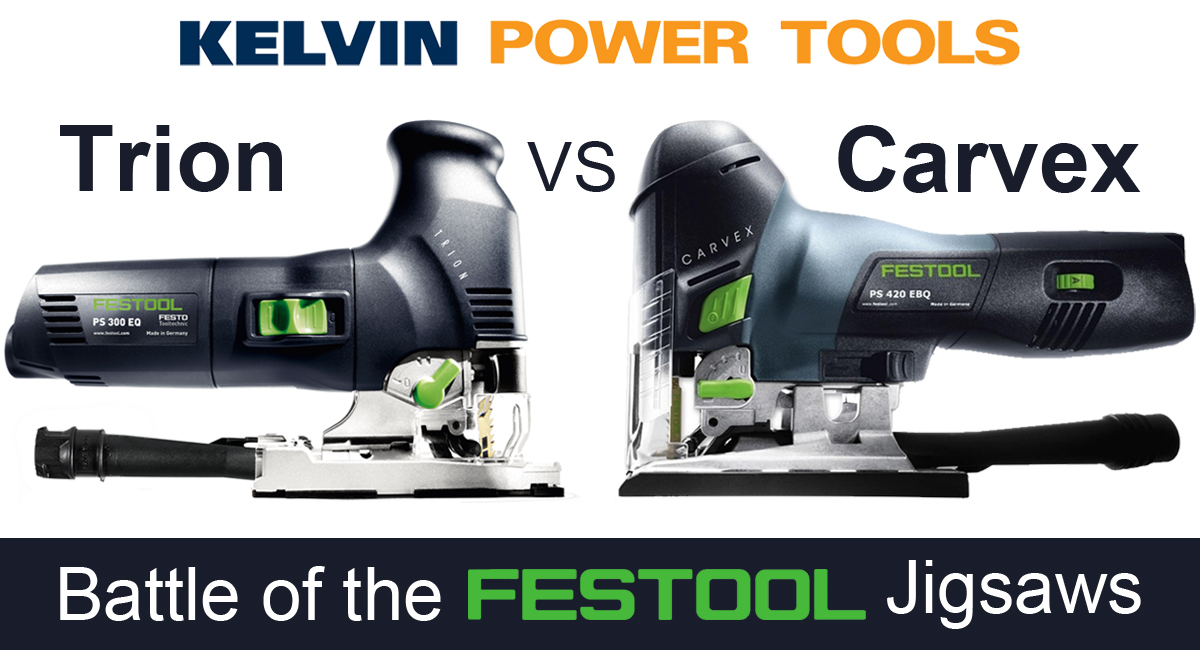 Looking to buy a Festool jigsaw? There's two main styles to choose from: the Trion 300 or the Carvex 420.
As a power tool specialist and official Festool dealer, we have the expertise to help you choose the best jigsaw for your needs.
Read on for our Festool jigsaw reviews and a side by side comparison of each model!
Festool Jigsaw Model Codes
Before we go any further, it's handy to know what the different Festool jigsaw model codes mean. As Festool is a German company, most of their tool codes are abbreviations for German words. There are four different Festool jigsaw codes:
PS = Pendel Stichsäge.
This means pendulum jigsaw. All Festool jigsaw codes begin with PS to indicate the type of tool.
PSB = Pendel Stichsäge Bügelgriff.
Bügelgriff means bow handle, so this translates to bow handle pendulum jigsaw.
PSC = Pendel Stichsäge Cordless
This means cordless pendulum jigsaw.
PSBC = Pendel StichsägeBügelgriff Cordless
This means cordless bow handle pendulum jigsaw.
After the initial 2-4 letter code, 3 numbers will follow to help you identify the specific model. All Trion jigsaws end in 300 and all Carvex jigsaws end in 420.
Festool Trion vs Carvex: What's The Difference?
As mentioned, there's currently two Festool jigsaw styles on the market: the Trion 300 and the Carvex 420. Both come in an electric body grip model (PS) and an electric bow handle model (PSB). The more modern Carvex also comes in a cordless body grip model (PSC) and a cordless bow handle model (PSBC).
TRION

CARVEX

PS 300

PSB 300

PS 420

PSB 420

PSC 420

PSBC 420

Motor type

SAME >

Brushed

SAME >

SAME >

SAME >

Brushless

Power consumption

SAME >

720W

SAME >

110V = 400W
240V = 550W

Battery voltage

SAME >

18V

Blade type

SAME >

SAME >

SAME >

SAME >

SAME >

ALL Festool jigsaw blades

Stroke rate

SAME >

1,000 –
2,900 min⁻¹

1,500 –
3,800 min⁻¹

1,000 –
3,800 min⁻¹

1,500 –
3,800 min⁻¹

1,000 –
3,800 min⁻¹

Inclination

SAME >

SAME >

SAME >

SAME >

SAME >

0-45°

Cutting depth in wood

SAME >

SAME >

SAME >

SAME >

SAME >

120mm

Cutting depth in NF metals

SAME >

SAME >

SAME >

SAME >

SAME >

20mm

Cutting depth in steel

SAME >

SAME >

SAME >

SAME >

SAME >

10mm

Weight

SAME >

2.4kg

SAME >

1.9kg

SAME >

2.4kg

Vibration sawing chipboard

SAME >

4.5 m/s²

SAME>

10 m/s²

6 m/s²

10 m/s²

Sound pressure level

SAME >

83 dB(A)

SAME >

SAME >

SAME >

88 dB(A)

Sound power level

SAME >

94 dB(A)

SAME >

SAME >

SAME >

99 dB(A)

Pendulum cover adjustment in stages

SAME >

SAME >

SAME >

SAME >

SAME >

4
Festool Jigsaw Reviews
Festool Trion Review
The Trion is Festool's original jigsaw model.
As mentioned, it comes in an electric body grip model and an electric bow handle model, depending on your personal preference. Both are perfectly balanced with compact handle dimensions and a low weight of 2.4kg for effortless one-handed operation – ideal when you're working from below! It also has lower noise and vibration levels than the Carvex for increased comfort and control.
The Festool Trion 300 has a high-performance 720W motor with 'Multi Material Control' power electronics which ensures high torque and cutting power. Pendulum action allows the blade to move up and down, AND backwards and forwards to cut into thicker, harder materials quicker. The jigsaw also has constant adjustable speed and temperature monitoring for work on all types of material.
The Trion provides a superior level of precision and curve cutting thanks to its patented three-way blade guide with parallel adjustable carbide jaws. It can make mitre cuts and undercuts from 0-45°, and it's compatible with Festool's guide rail system (adapter needed) for even further accuracy.
The jigsaw also has a splinter guard which ensures splinter-free cuts on both sides, eliminating the need for rework or finishing work – even on veneered surfaces! Integrated extraction channels in the saw table provide effective dust extraction directly at the blade, while the FastFix quick-clamping system enables rapid, tool-free blade changes.
The Festool Trion jigsaw can be used for a wide range of applications, including cut-outs for sinks and kitchen hobs; trimming work on furniture, kitchens, and for interior fitting; cutting circles and curves; coping end strips; cutting workpieces to length; edge notching on beams; and cutting from below.
Overall, the Festool Trion 300 is an excellent jigsaw which offers superior power, precision and ergonomics for flexible use in a wide range of applications. However, it's sorely lacking a cordless model.
Festool Carvex Review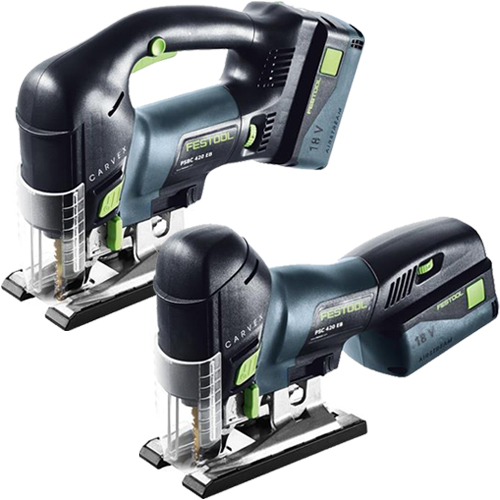 The Carvex is Festool's more modern jigsaw model. It has all of the same great features as the Trion, with some additional benefits.
The main difference between the Carvex and the Trion, is that the Carvex comes in both electric and cordless models. A cordless jigsaw can significantly increase the flexibility of your work as you're not restricted by power sources and cable lengths. Festool's NEW AIRSTREAM battery technology further increases the convenience of cordless with even longer runtimes, 65% quicker charging times and 'to-the-minute' charge display. So really, the main difference between an electric and cordless Carvex jigsaw is literally the cord!
The Festool Carvex 420 also has a brushless EC-TEC motor which provides maximum efficiency and performance. Brushless motors utilise energy more efficiently as it's not being wasted on heat and friction from the carbon brushes – it's transferred to the task you're conducting instead. Brushless motors are also 100% maintenance-free and have a longer service life than brushed motors. In cordless models, the battery's runtime is also increased. (Note: brushless motors tend to have lower wattage than brushed motors as they're more efficient which 'makes up' for this.)
In addition to this, the Carvex has an automatic speed setting which reduces the speed before the blade makes contact with the workpiece to make starting cuts easier. The motor then quickly speeds up once it's engaged with the workpiece and adjusts the speed according to the blade's resistance in the material.
The Festool Carvex jigsaw also has stroboscope LED lighting for an easily visible scribe mark – something which the Trion is greatly missing. There's also an electronic on/off switch on both sides of the jigsaw making it easy to reach in every grip position for increased convenience.
Out of the six Festool jigsaw models, the two electric Carvex models have the lightest weight at only 1.9kg for even greater comfort and control. The two bow handle Carvex models also have a wider variable speed range for increased flexibility in applications.
The only downfall of the Carvex compared to the Trion, is that in order to make mitre cuts and undercuts from 0-45°, you need to purchase an angle table separately which will cost you around £80.
Overall, the Festool Carvex 420 is a brilliant jigsaw. It can do everything the Trion 300 can do and more for maximum flexibility when working.
What's The Best Festool Jigsaw?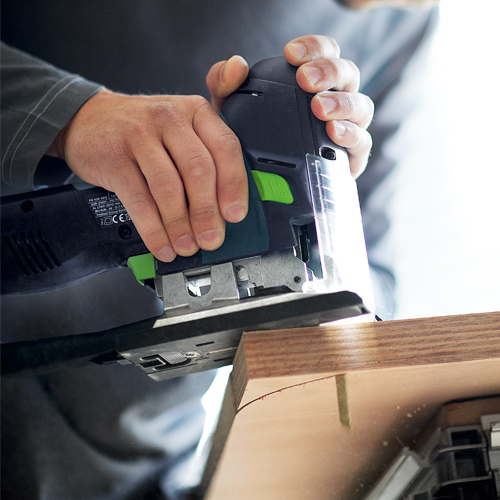 Comparing electric and cordless jigsaws is impossible as both have different benefits over the other. So really, it's down to your personal preference and the environment(s) in which you'll be working.
If you want a cordless Festool jigsaw, then the Carvex is your only choice – and an excellent one at that! The abilities of the tool along with Festool's AIRSTREAM battery technology will make your work effortless.
If you want an electric Festool jigsaw; both the Trion and Carvex are brilliant. However, for optimum performance and flexibility; go with the Festool Carvex 420. The Carvex can do everything the Trion can do and more! It has the lightest weight, a brushless motor for maximum efficiency, automatic speed setting for easier cutting, and lighting for a clearer view of the cutting line. The bow handle model also has the widest variable speed range for maximum flexibility in applications.
That being said, the Festool Trion 300 is still a great jigsaw. If you don't need the above 'extras' and would rather have the integrated function of making mitre cuts and undercuts; then this is the best Festool jigsaw for you!