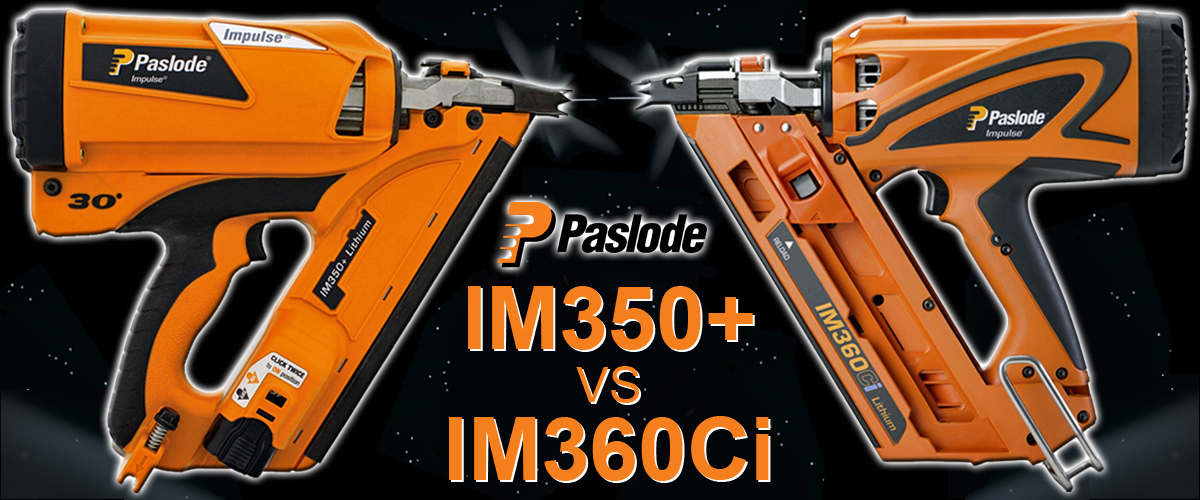 Are you looking to buy a Paslode framing nailer? There's two models to choose from: the IM350 Plus or the IM360Ci.
As a Paslode specialist and approved supplier/service centre, we know what makes for the best first fix nail gun. Read on for our Paslode framing nailer reviews and a side by side comparison of each tool.
What is a Framing Nailer?
A framing nail gun is used to fix heavy-duty nails into wooden framework and structures where a strong connection is required. This includes wooden supports in house building, roofing, decking and fencing. A framing nailer is a faster and less fatiguing alternative to a regular hammer, making it ideal for large projects. It's often referred to as a first fix nailer.
This is opposed to a finish/finishing nailer which is used to fix shorter, slimmer nails into wooden trim like skirting boards. This is often referred to as second fix.
Paslode IM350+ vs IM360Ci: What's the Difference?
There are currently two, well really three, Paslode framing guns on the market. There's the IM360Ci Lithium, the IM350+ Lithium, and the IM350+ NiCad which is being discontinued.
NiCad (Nickel-cadmium) batteries are being eradicated as they are needlessly harmful to the environment. Lithium-ion batteries are friendlier to the environment, more powerful and longer lasting. The IM350+ Li-ion is the same great tool as the IM350+ NiCad – it's just been adjusted to take the new Lithium battery.
IM350+ NiCad
(Discontinued)
IM350+ Lithium
(2016)
IM360Ci Lithium


*KEY DIFFERENCE*


Nail/fuel type:


Use the same IM350 nails (clipped head)
& gas fuel

Uses different IM360 nails (full round head) & gas fuel
Battery:
1.2Ah NiCad
2.1Ah Lithium-ion
2.1Ah Lithium-ion
Battery charge time:
120 mins
90 mins
90 mins
Shots per charge:
Up to 4,000
up to 9,000
up to 13,000
Nail range:
SAME >
51mm – 90mm
50mm – 90mm
Impact force:
SAME >
82J
105J
Max. cycle rate/sec:
SAME >
SAME >
2-3 nails
Max. cycle rate/hour:
SAME >
SAME >
1,000 nails
Magazine capacity:
SAME >
55 nails (1 strip)
47 / 85 nails (standard/long)
Fuel cell capacity:
SAME >
1,100 shots
1,250 shots
Vibration:
SAME >
2.6 m/s²
3.9 m/s²
Sound power level:
102 dB(A)
89 dB(A)
109 dB(A)
Sound pressure level:
SAME >
< 130 dB(A)
138 dB(A)
Weight:
3.4kg
3.3kg
3.8kg
Size:
370 x 305 x 102mm
370 x 305 x 110mm
384 x 328 x 127mm
Materials:
SAME >
Wood
Wood, OSB, chipboard
Applications:

 

SAME >
SAME >
Timber frame, stud work, roof battening, cladding, joists, floor boarding, noggins, overboarding, soffits, decking, roof decking, roofing, fencing, shuttering, packaging, panelling, truss work, hoarding, close boarding
Additional features:
Rafter and belt hook
On/off battery switch,
rafter and belt hook
Start & Go sensor,
battery/fuel gauge,
on/off battery switch,
rafter and belt hook
Paslode Framing Nailer Reviews
Paslode IM350+ Review

The Paslode IM350 has been the market-leading tool in timber to timber construction for over 30 years. As mentioned, the IM350+ Li-ion is an upgraded version of the IM350+ NiCad. This new model has all of the same great features as its predecessor, with the addition of Lithium-ion technology for even better performance and efficiency.
This 1st fix nail gun can be used on wooden materials for a wide range of applications, as listed in the table above. It's powered by both a gas fuel cell and a 2.1Ah Lithium-ion battery for an outstanding 9,000 shots per charge – that's more than twice the amount of the NiCad version. The nailer is compatible with standard Paslode IM350+ RounDrive nails (clipped head) and standard IM350+ fuel cells.
The IM350+ Lithium provides an impressive 82 joules of impact force with a delivery rate of 2-3 nails per second. It has a multi-angle toothed nose probe for additional bite, which stops the nail gun from sliding and ensures positive placement in timbers. The machine also has easy depth of drive adjustment via a pinch and slide action, with a dual action rafter and belt hook for extra convenience.
This new model can fire both 90mm ring nails and smooth nails, compared to the NiCad version which can only fire 90mm smooth nails. The battery's charging time is also cut by 30 minutes for increased productivity, with a battery on/off switch for optimum runtime per charge.
Out of the three Paslode framing nailers, the IM350+ Li-ion is the lightest and has the lowest noise levels. It also has excellent balance, low vibration levels and a non-slip soft grip handle for increased user comfort and control.
Overall, the Paslode IM350+ Lithium is a great framing nailer which offers excellent power, quick work progress and low user fatigue. The introduction of Li-ion battery technology significantly increases its performance and efficiency, allowing it to successfully take over from the IM350+ NiCad.

Paslode IM360Ci Review

The IM360Ci is Paslode's most advanced first fix nail gun. It can be used on wood, OSB and chipboard for a wide range of applications, as listed in the table above. The nailer is powered by both a gas fuel cell and a 2.1Ah Lithium-ion battery for an unrivalled 13,000 shots per charge. It's compatible with standard Paslode IM360Ci RounDrive nails (full round head), as well as the manufacturer's innovative NailScrews for increased flexibility. The nail gun uses a Series-i fuel cell which provides an extra 150 shots than the IM350+ fuel cell.
The IM360Ci has the best power in its class and the best power-to-weight ratio on the market, with an outstanding 105 joules of impact force. It has an improved aggressive probe with an easy-to-use depth adjuster, as well as incredible cold weather performance which allows users to work down to -15°C.
In addition to a battery on/off switch, this framing nailer features a 'Start & Go' sensor which automatically cuts off the battery power if there is no movement of the tool for more than a minute. This intelligent, power-saving technology prevents the battery from losing charge when it is not being used for up to 25% more shots per charge. This 1st fix nail gun also features a one-touch LED indicator which shows the user the remaining fuel and battery power for increased efficiency.
Overall, the Paslode IM360Ci is unrivalled when it comes to power and performance. Its intelligent technology significantly increases its efficiency for higher levels of productivity than the IM350 Plus.

What's the Best Paslode Framing Nailer?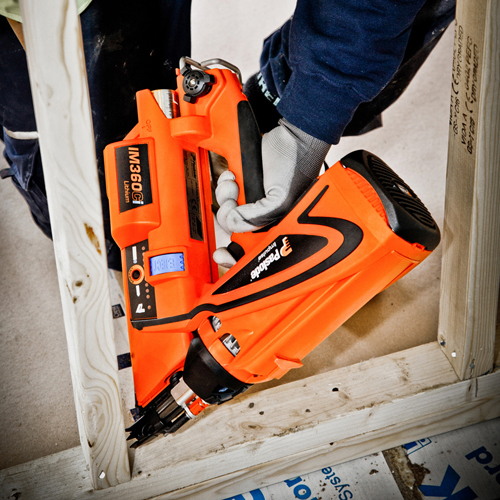 For optimum power and performance; go with the IM360Ci. It can do everything the IM350 can do and more. It has more power and can be used on more materials. It's unmatched in its number of shots per charge and, with clever features like the power-saving Start & Go sensor, the battery can go even further. Plus, the IM360 has a useful battery and fuel gauge which the IM350 is still sorely lacking.
A key consideration you need to make though; what nails are you using? The IM360 has its own set of nails which are cheaper and come in bigger box quantities than IM350+ nails. This is a great incentive to get a Paslode IM360, however if you have your nails supplied by a contractor and IM350 nails are being used on site, you'll need an IM350+ to fire them.